Live House
---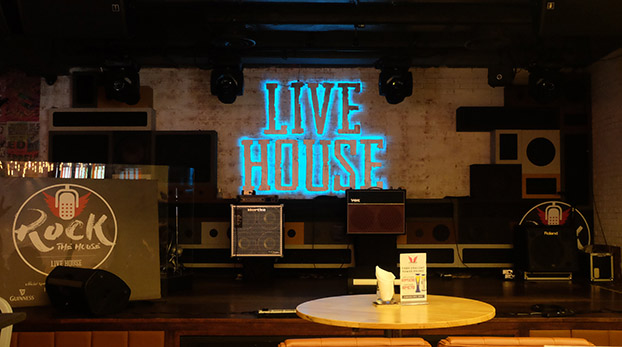 The American style bar was established to fill the gap in the Malaysian market for live entertainment venues with a casual setting. Live House aims to be a regular hangout where patrons can go for a full meal prepared by the team behind KGB Burgers complemented by an abundant list of beverages that includes beer, spirits, cocktails and mocktails. At night, the joint is an entertainment hub that is accessible all week.
The two floors venue in TREC KL can house up to 500 pax combined, providing daily live entertainment of eclectic music, bands and stand up comedy. Live House is able to run 2 shows at the same time with music on the ground floor and comedy upstairs.
The cocktail menu, which we are highlighting here, is created by Joshua Ivanovic, an experienced cocktail creator at the London Academy of Bartending, Mahiki and Milk & Honey. The cocktails are all priced at RM38++ and available all day at the venue. The cocktails created are meant for easy sipping.
Live House
Smirnoff Vodka, riesling white wine, peach and fresh lemon topped with soda.
We say: Sweet fruit on the nose but dry on the palate. It's so easy to drink no wonder it's the best seller of the house.
LOL
José Cuervo Tequila, blackcurrant liquor, fresh lime juice, homemade ginger syrup and topped with ginger ale.
We say: Rich berry taste from the blackcurrant with heat from ginger. After the heat dissipates, the lime surfaces with a peppercorn after taste.
Malaysian Mule
Smirnoff Vodka, fresh lime, muddled lemon grass and ginger.
We say: A clear lemon grass scent on the nose and immediate association with freshness from the local ingredients. Less heat from the fresh ginger in this drink compared to LOL but slightly spicier.
Centre Stage
Smirnoff Vodka, fresh apple, passionfruit syrup and lemon juice shaken with egg white.
We say: Just like the name, this drink is very pretty with an apple fan that is propped at the centre of the glass rim. The drink tastes citrusy with a sweet scent and leaves a coat of berry freshness on your tongue.


Blue Mercury
Smirnoff Vodka with fresh blueberries, crème de cassis and fresh lime juice.
We say: Alcoholic Ribena. 'Nough said.
Full House
Johnnie Walker Black Label Scotch Whisky with maple syrup, triple sec, fresh lemon and a dash of sugar. Shaken with egg white and topped with soda.
We say: The smokiness from the whisky distinctively stands out and we can imagine it being a comfort drink by the sweet toasty smell from the maple syrup if served neat. Adding soda turns the drink instantly hipper with egg white protecting its original taste.
Address: E-G-07, Electric Boulevard TREC, Lot 434, Jalan Tun Razak, Seksyen 90, 50400 Kuala Lumpur, Malaysia.
Telephone No.: +6012 223 1937
Website: http://livehouse.my/
Operation Time: Mon-Sun: 12pm-3pm; 6pm-5am

---