Omakase + Appreciate
---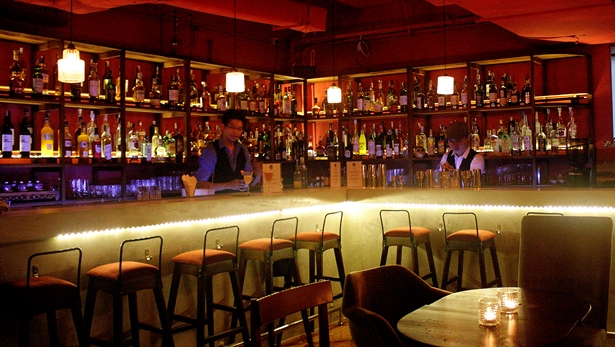 It took me a good 5 minutes to find the stairway leading to the entrance and a few attempts in opening some fire escape doors before stumbling into the bar. It was not at the most obvious place, well, for a reason. It's a speakeasy bar!
Omakase + Appreciate is a speakeasy bar run by two young bartenders who like to experiment cocktails. Speakeasy bars is not a new concept in Kuala Lumpur. Prior to Omakase +Appreciate, there was Tate at the Intermark building on Jalan Tun Razak. The latter carries a modern British members-only club atmosphere which is designed for an upper-class clientele.
The history of speakeasy may be less known here in Malaysia where the cocktail culture is still at its infancy. However, for some who know about the Prohibition period in the US spirits history (between the 1920s and 1930s) would have a thing for speakeasy bars. A speakeasy was an establishment that sold alcohol illegally. It was always located at a place not easily found and sometimes a "password" is required to gain entry. A speakeasy bar at the present time captures the nostalgia of the Prohibition era when many classic recipes were created.
Omakase – "leave it to you" in Japanese language. That is to say, let your bartender do his job. Here in Omakase + Appreciate, you can either pick what is already on the menu or describe to Shawn or Karl what flavours you like. Rest assured you will be getting something very close to your favourite taste.
Shawn Chong


In this barely 500 square foot space with minimal entertainment and a none smoking setting, you can focus more on your company and fully appreciate your drink.
There are two bartenders manning the stations - Shawn Chong and Karl Too. Shawn graduated from Taylor's University hospitality school and was immediately spotted by Diageo Malaysia during the first Diageo World Class Competition in Malaysia1. He has since been guest bartending in the yearly Johnnie Walker event and is also a lecturer in Sunway University. Karl has been working at the bar a bit longer, being a total addict in cocktail making, he spends most of his time researching and mixing different elixir he can get his hands on.
Karl Too


The cocktails were made with fresh ingredients that gave them that natural look and un-artificial taste. I had Side Car by Shawn and Breakfast Martini by Karl, both were citrusy drink and pretty strong. The bar serves some tit bits to go with your drink but I would suggest a meal before hitting this joint. It is a place for chilling out with mates over a few world class cocktails without breaking the bank.
The only flaw of Omakase + Appreciate is the limited space. It can only fit a maximum of 35 people with mostly having to stand. Then again, having to serve a packed bar and still keeping a good standard of drinks are not easy tasks. Keeping it small might be a good idea.
I am however, very impressed at the bravery of the bartenders in opening a bar at such a secluded location and in an almost dying market for cocktail bars. The Kuala Lumpur drinking crowd in recent years has not grown any more sophisticated than it was 10 or even 20 years ago. Nonetheless, a trend has been set by a few important players in influencing the bartending profession in general. I hope Omakase + Appreciate has come to encourage good bartenders to stay in Malaysia and open their own conceptual bars than bringing their good skills elsewhere.
1. Diageo World Class Competition is an annual cocktail competition organised by Diageo, the world biggest spirits company. The first Malaysia World Class was held in 2009 where the winning bartender was sent to the final to compete against bartenders around the world.
Address: Ming Annexe Building, No. 9, Jalan Ampang, 50450 Kuala Lumpur, Malaysia.
Telephone No.: NA
Website: https://www.facebook.com/OmakaseAppreciate
Operation Time: Tue - Sat: 17:00 - 01:00

View Larger Map
---