Taps Beer Bar
---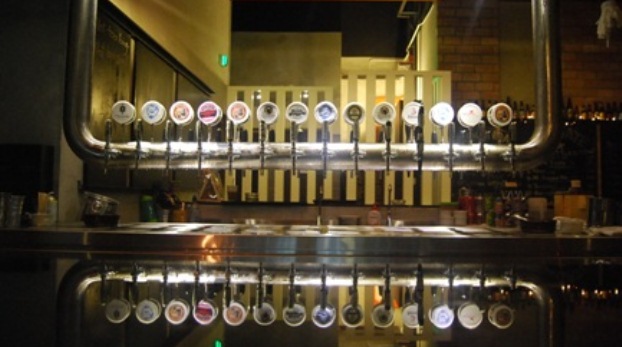 TAPS is the latest craft beer joint in KL. They import draught beers from microbreweries in Australia,
the UK,
Denmark and Norway. There is a new type of beer on the tap every month.
They serve
pilsners, IPAs, APAs, porters, stout and other beer styles, you will have to visit at least once a month to catch up with their beer menu.
If you are unsure of the beer because you have not tried it before, you can go for the 3 samples at RM30 before going for the full pint. Their pint is served at 430ml each.
Apart from their draught beers which are only available until stock last, TAPS also carries 55 different bottle from al around the world.
Review by Lyra Deanna
'Join the craft beer revolution' says TAPS Beer Bar, and well ok, I think I will. There is, after all, life beyond lager.
Am I being convinced by the bar's rotating tap concept, which has 14 draught taps frothing with the boutique brews? Is it the 15 different bottled labels always available – among which is BrewDog, the Scottish punk rockers of brewing – or the limited edition specials, like the Black Tokyo Horizon, a collaboration between BrewDog, Nøgne ø from Norway and Mikkeller from Denmark? Only 10,000 bottles of this last one worldwide, and TAPS had 24 (now they're down to eight bottles).
Or maybe it's just the appeal of craft beer itself, made by small, independent breweries that all pride themselves on high quality and out-of-the-box (bottle?) flavours. You'll find crazy flavours in the world of craft beers that just can't be achieved by the commercial boys, simply because they're too niche. On hand to explain and recommend are owner Alvin Lim or his sister Millie; they've started TAPS with their cousins, Brian and Adrian Chong and Aaron Lim.
You'll pay just under RM30 for 430ml glasses of the draught beers and the regular bottles will set you back between RM19 and RM29 each. One good way to sample your way through menu is to order the paddle board, which will give you three sampling glasses of any of the beers on tap that day for RM30.
But when it comes to the limited edition brews, all bets are off. The Black Tokyo Horizon is going at RM107 per 330ml bottle, and only eight bottles remain right now.
The 14 taps will remain, but by the end of March, KL nuts will have a choice of about 50 bottled beers. The beers here are from Australia, Scotland, England and soon, Denmark and Norway.
If you think you know your beer, think again …and head straight to TAPS. It'll redefine the headspace you reserve for a brew, whether it's in terms of flavour, price or even alcohol base volume – the Black Tokyo Horizon is 17.2% ABV.
Treasures on tap abound: from the silky elegance of the Three Ravens Black sweet stout from Australia, busting with chocolate and coffee to BrewDog's brilliant Punk IPA, which runs the gamut of mandarins, tangerines, floral nuances, fresh herbs and the sugary goodness of jelly babies!
Each beer is served at its own optimum temperature – between 4ºC and 8ºC for lagers and ales and 10ºC for darker porters or stouts.
The place itself is comfortable and welcoming, the kind of place that you head to after a long day at work, so you can crack open a beer and let the tension drain out of you. It's also imbued with the same irreverence and sense of humour that characterizes the world of craft beers itself. At the same time, it's stylish enough that it doesn't look out of place at the posh One Residency, (but it's really the kind of place that doesn't take itself too seriously). My visit saw a happy spiral back to college days with lots of 90s alt-rock being played – Alvin's selection – but there is a small space for live music and sessions will be starting in a while. Food is also served to satiate the hunger that always seems to accompany a good beer session, but for now, it's the brews that really make an impact.
Address: One Residency, 1 Jalan Nagasari, Off Jalan Raja Chulan, 50200 Kuala Lumpur, Malaysia
Telephone No.: +603 2110 1560
Website: http://www.tapsbeerbar.my
Operation Time: Mon - Sat: 17:00 til late; Sunday: 12:00 til late
Pork Free/Halal: Pork free

View Larger Map
---