2 Brothers - the Melbourne brewery that only exports to Malaysia
---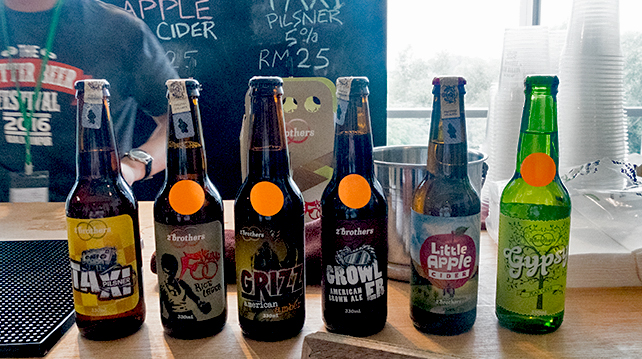 David Ong, co-founder of 2 Brothers that started in Melbourne 10 years ago with his brother Andrew, was at the Better Beer Festival in Publika in October. It was the second day of the event and the crowd was pouring in quickly after lunch. Over a Gypsy Pear Cider, David told us the history of the brewery and their business direction.
David looks after the sales, operations and finance of 2 Brothers, whereas Andrew takes care of brewing. The two brothers had both been living in the US for some time. David was a physiotherapist in New York and Andrew an aeronautical engineer for BOEING in Seattle. At some point, Andrew started getting into craft brewing while working in a brewery just outside Seattle on the weekends. Just 10 years ago, Melbourne's craft beer industry was at its infancy, "We both saw an opportunity and took it. We were back in Melbourne at that time but I stayed on to get the ground work sorted for the brewery and Andrew returned to the US to receive formal brewing education. We opened 2 Brothers in 2006," says David.
Because of this early start, the brewery is now quite established in the local Melbourne market. The brewery has been trying to keep up with local demand and only started to export about 4 years ago. Singapore was the first market they entered but orders were in short bursts. It was when they connected with My Beer that they established their export market in Malaysia, which still remains the only country that 2 Brothers is supplying outside of Australia.
We have tried 2 Brothers' beers before in Taps Beer Bar. We were excited to try ciders from Australia served on tap for the first time. Their two ciders are Gypsy Pear Cider and Little Apple Cider which are both semi-sweet with slight fruity acidity and are not overly carbonated, basically very signature of 2 Brothers as their beers are light and easy to drink. "Some of our products have become anchors in the Asian market because they are fantastic with Asian food." That we agreed with David. The brewery showcased 4 of their 12 products during Better Beer Festival: the two ciders, Taxi, a German Pilsner and Kung Foo, a Rice Lager. Both beers are brewed for the hot weather (in Australia for the summer), crisp, low bitterness, light and clean which means they go really well with our oily and heavy wok-hei food. Alvin Lim from Taps Beer Bar suggested that beers like pilsner and lager are the easiest to pair, they go with anything from fish & chips to nasi kampong fried rice.
When asked where the brewery is heading, David says, "It's going bigger. We're close to capacity and we need to start making decisions about whether we'd go on to the next level, find another site, build another brew house and what that entails financially and what pressures that puts on us to try and sell the stock. There is a lot of thinking and talking going on at the moment."
You can find 2 Brothers' Gypsy Pear Cider and Little Apple Cider, Taxi German Pilsner and Kung Foo Rice Lager occasionally on draft and bottles in Taps Beer Bar.

---