Kronenbourg 1664 Now Available at Carrefour Malaysia
---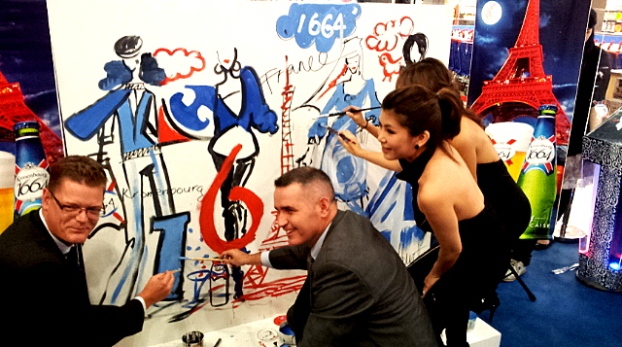 The bestselling French premium beer in France is now available in retail in French hypermarket – Carrefour, brought in by a partnership with Carlsberg Malaysia.
"Carrefour is the only logical distribution for the French fondly known as "Champagne of Beers" in Malaysia, Kronenbourg 1664 is a sophisticated beer that will add panache and style to any occasion," said Soren Ravn, Managing Director of Carrefour during his speech at the launch.
Launch of Kronenbourg 1664 took place at Carrefour, Mid Valley on 14th September 2012. The partnership with the French hypermarket ensures beer lovers all around Malaysia the opportunity to bring home the smooth tasting premium beer. Stephen Coum, Merchandise Director of Carrefour said, "Kronenbourg is a high end beer that fits perfectly in representing the French culture, that matches the position of Carrefour."

A "Live Art Performance" by two young ladies from Paintlust, who performed an impromptu wall painting on a white board of an illustration of the brand Kronenbourg 1664 and its French culture. The wall was presented by Ravn to Coum as a present to Carrefour Malaysia to commemorate the partnership.

Kronenbourg 1664 Lager is now available for purchase in 325ml bottles at the price of RM11.90 while the Kronenbourg 1664 Blanc in 330ml bottles at RM12,90 each in Carrefour Nationawide.
---