Say Happy Valentine's day with Kronenbourg
---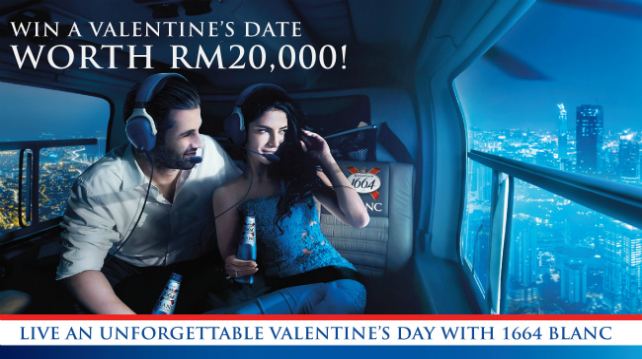 Do you feel like roses and a fancy dinner aren't going to cut it for you and your significant other this year? Want to try something more exciting? Leave it to Kronenbourg to help you out.
This year Kronenbourg want to deliver the French Way of Life for a lucky couple on this very special day. There's no Eiffel Tower, but they'll do even better – a full romantic day of luxury and style, you and your partner will be treated to a fashion makeover, a sightseeing tour of KL by helicopter (yes, really), pampering at a couple's spa, a romantic French dinner with unobstructed views of KLCC, and a night stay at a plush five-star hotel in the heart of the city, all while getting chauffeured around in a limousine. How's that for a memorable experience.
To be in the running for this grand prize, all you need to do is post a photo of you and your loved one enjoying Kronenbourg 1664 Blanc with the hashtag #1664BlancValentines on Facebook or Instagram. It's as simple as that.
But all is fair in love and war. Thirty lucky winners will also walk away with a carton (with 24-cans) of Kronenbourg 1664 Blanc to enjoy on those quiet nights in with bae.
The social media contest runs from 1st to 12th February, and winners will be announced on the 13th via Kronenbourg 1664 Blanc Malaysia's Facebook page.
---