Here are the 10 books that every bartender must read
---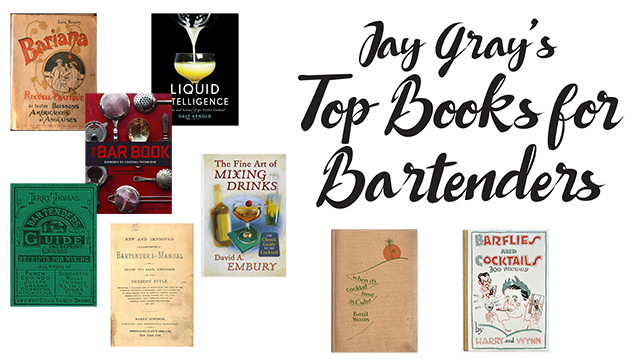 The affable Jay Gray is a hardworking and book smart bartender who paid his dues, as many often do, working in bars and pubs in Nottingham, London, Barcelona, Sydney, and now in Singapore as the Monkey Shoulder Brand Ambassador for South East Asia.
"I never chased money, I always chased knowledge," he says, after delivering a masterclass on cocktails through the ages to Malaysian bartenders, emphasising bartending literature that best defined the eras. He shares with us his top seven (plus one) highly recommended readings for any bartender looking to learn.
1. The Bartender's Guide by Jerry Thomas
His first book is amazing for the century it was written in, and as a good reference point for how classic drinks are made.
2. Mixellany's Bariana by Louis Fouquet (translated by Jared Brown)
For a book that was written 30 years after everyone else, the style is really good.
3. Bartenders Manual by Harry Johnson (2nd Revised Edition)
For anyone who wants to open a bar, and for anyone who wants to train their bartenders in etiquette and style, this is a go-to.
4. Barflies and Cocktails by Harry McElhone
One thing that Harry McElhone was good at was making sure if he's putting a drink in his book you know where it's come from. Like the Manuel Del Cantoneros said, bartenders need to know 120 drinks – and they usually did, but I think it's better to have the reference because knowing where the drinks come from is important in knowing how they should taste.
5. The Fine Art of Mixing Drinks by David Embury
His writing style is easily digestible. It's way more flowing and there are good stories. It's the customer looking in at the bar, rather than a bartender talking to a bartender. To have that perception on drinks, and style, and how to behave as a bartender, is so important because it's what [the customer] sees. It's also a great reference for writing menus.
6. Liquid Intelligence: The Art and Science of the Perfect Cocktail by Dave Arnold
Great for experimentation, for new techniques, put fairly simplistically. The new age of bartending with people like Dave and Don Lee look at precision and accuracy. They do experiments because, in a certain way, they are scientists. I could geek out on this stuff all day, and I think it makes for pretty interesting conversation.
7. The Bar Book by David Morgenthaler
This would help bartenders, especially younger ones. It goes through everything.
WILD CARD
8. When it's Cocktail Time in Cuba by Basil Woon
All about experiences in cocktail bartending in Cuba in 1928.
---
Events & Promotions
---
---