Winner of the Monin Cup Malaysia 2018
---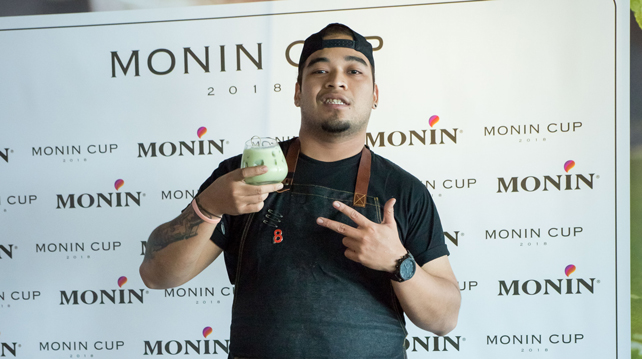 We've found the representative for Malaysia who will move forward to compete in the APAC Monin Cup 2018. His name is Dino, a bartender from Bangsar's Knowhere Eatery & Bar! Dino went up against 14 other bartenders from around Malaysia, at Arena Bar TTDI on Monday (23 July).
They are Kay Kim Koh (Wizards at Tribeca), Vergara Noel (First floor TTDI), Chris Chung (Beta KL), Mohammad Iskandar (Maze Gin Parlour), Thinesh Raj (Brussels Beer Café), Caden Chua Hui Chan (Coley), Tan Hun Keat (Hilton KL), See Ting Xuan (The Deceased), Ben Wai Kit (The Vault), Loo Hong Xiang (Coffee Ritual), Joshua Chen (Brussels Beer Café), Karanjit Singh (Marini's on 57), Jordan Lim (Bar Pahit), and Ler Tche Shing (The Deceased).
The competition is a biennial affair where bartenders from participating countries put their skills to the test at the Monin Cup International Final in France. This year's theme was 'Mix Your Origins' where the participants were required to craft a drink using local ingredients and Monin products. The judging panel consisted of Monin's Beverage Innovation Manager Marek Vojcarcik,W Hotel's Liquid Operations Manager Rizal Junior, the owner of Omakase + Appreciate's Shawn Chong and our editor-in-chief Kim Choong.
The fifteen contestants recreated their submitted recipes while going through gruelling questions from the judges. Six of the bartenders moved forward to the final Black Box round. They were Dino, Kay Kim, Jordan, Ben, Kiranjit and Caden. Each of the finalists had 15 minutes to concoct a cocktail from ingredients out of the black box they chose. Then with the taste and backgrounds of their selected ingredients, to come up with a recipe using the available spirits.
The champion of the competition took home a cash prize of RM1,000. This year, Dino as the first runner-up will be competing at the APAC final in Kuala Lumpur, scheduled to be held on 23 October 2018. Caden walked away with the second runner-up prize. Top three in the APAC final will proceed to France for the Global Final.
Dino's recipe "Kiss Me Later" was inspired by his wife who loved the taste of durian and matcha latte. Read more about his recipe here.
Congratulations to everyone who won and took part! See below for Dino's recipe.
Kiss Me Later
Ingredients:
15ml Monin Caramel syrup
10ml Monin Popcorn syrup
2 bsp Le Frappe de Monin Matcha
50ml vodka
20ml durian liquor
50ml half and half
Glutinous rice for garnish
Methods:
1. Put all the ingredients in one shaker and then shake.
2. Pour the liquid into a glass and garnish with glutinous rice.
-T-
---