Fentimans & Ronnefeldt Online Promotion
---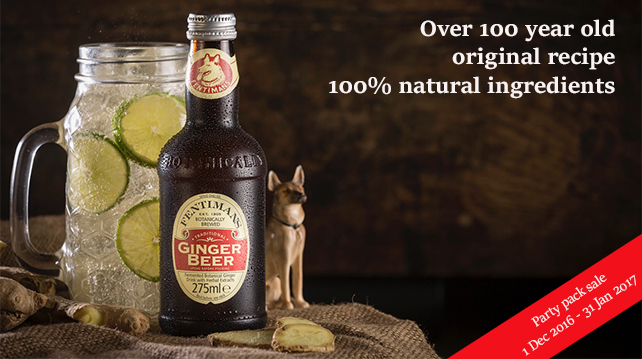 The over 100 year-old brand produces its time-honoured botanically brewed beverages in the original way, using the traditional ginger beer recipe and 100% natural ingredients.
Fentimans originated from West Yorkshire, UK by Thomas Fentimans, who acquired a recipe for botanically brewed ginger beer in 1905. The original recipe involves milling ginger roots before putting them into a copper steam-jacket pan and leaving them to simmer to release the flavour. All ingredients used in the products are natural botanical ingredients such as herbs, natural flavourings, sugar, spring water and brewer's yeast.
The German Shepard dog stamped on every bottle was the founder's dog named 'Fearless'. It was a two-time winner of Crufts' obedience class, a championship conformation show for dogs held annually in the UK.
From 1 December 2016 to 31 January 2017, Fentimans' is running a special promotion price on online purchases that also come with the brand's merchandise such as the quirky drinks mat and recipe cards. Available in West Malaysia only.

1) "Party Pack" RM128.00 (Original price RM168.00) - a case of 12 Fentimans botanically brewed sodas:
- 3 Rose Lemonade
- 3 Mandarin Seville Orange and Jigger
- 3 Wild English Elderflower
- 3 Ginger Beer
- 4 Fentimans drinks mat
- 4 Recipe cards
Free delivery

2) "Special Taster Pack" RM25.00 (2 options)
- 1 bottle of Rose Lemonade
- 1 bottle of Mandarin Seville Orange Jigger
or
- 1 bottle of Wild English Elderflower
- 1 bottle of Ginger Beer
3) "Ronnefeldt Tea Couture" RM68.00 (Original price RM90.00)
Exquisite teas meet elegant design, in the Ronnefeldt Tea Couture range. The collection comprises some of the finest loose-leaf teas, from seven of the world's best-known tea growing regions. Each is packaged in a golden caddy, adorned with an alluring design that reflects the fashions of its region.
For item 2) and 3), purchase RM200 and above to enjoy free delivery. The promotion is valid from 1/12/16 till 31/1/17 and available in West Malaysia only.
---