KeepCup
---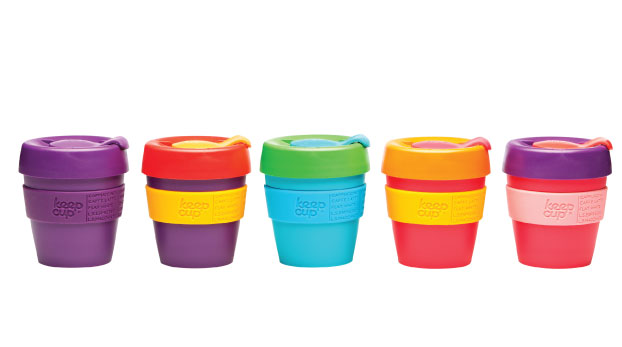 Product Type: Reusable coffee cups

Company: KeepCup Pty Ltd

Country: Australia

Website: www.KeepCup.com

Year established: 2007

Company background: Siblings Abigail and Jamie Forsyth started their takeaway café business in 1998 under the name of Bluebag. Their six stores in Melbourne sold fresh sandwiches, salads and of course coffee in a takeaway format. Their increasing concern about the amount of disposables from their stores, especially take away cups, had made them looked at using reusable containers as alternative.
After Abigail started a family, she found that the idea of putting her daughter's warm milk in sippy cup every day and night was not right. She had been using disposable cup every morning for her coffee and that she thought, was a habit to change. It was a behavioural change to start washing your own cup that was necessary, she thought.

In 2007, they engaged Cobalt Niche industrial design to bring their idea to life. The first KeepCup was born 2 years later in June 2009 and was first sold in Design Market in Melbourne. A blogger from Los Angeles was there that time and wrote about the product. The response in the US was very positive and ever since then, KeepCup became an international business.

Designed to be used just like a disposable cup – but with a much longer life span – KeepCup's popularity has grown because of its individuality and its environmentally-friendly concept. It's a portable cup used for takeaway beverages, such as coffee.

KeepCup consists of four parts, each made of a single different ingredient. The cup itself is polypropylene, low-density polyethylene forms the lid, the thermal band is silicone, and thermoplastic polyurethane makes the plug. These materials – except for the silicone – can be recycled in domestic recycling in many parts of the world at the end of their estimated four-year life span. They were also chosen for their low embodied energy in manufacture, and for their durability and weight. It is estimated that the energy used in producing one KeepCup breaks even at as low as 15 uses.

The KeepCups come in various bright colours, and are designed to 'barista standards' – they replicate the sizes of disposable cups, to ensure correct dosing of milk and coffee. The three smaller sizes design also fit under espresso machines, so that integrity of the shot is not compromised.

Originating from Australia since 2009, KeepCup now also has offices in the UK and US, and is selling in 32 countries around the world. The company has recently appointed distributors in Japan, Malaysia and Taiwan, as KeepCup is looking to extend its reach into Asia.

KeepCup is sponsoring the World Barista Championships, held in Vienna in June 2012.



Not only are there many different colour matches for your liking, KeepCups are also designed on 'barista standard' because they replicate the sizes of disposable cups to ensure correct dosing of milk and coffee. They come in the four standard takeaway sizes and the three smaller sizes design also fit under espresso machines so that integrity of the shot is not compromised.

Originated from Australia in 2009, KeepCup now have offices also in the UK and USA and are selling in 32 countries around the world. The have recently appointed distributors in Japan, Malaysia and Taiwan, KeepCup is looking to extend its reach into Asia. They are also sponsoring the World Barista Championships, to be held in Vienna in June 2012.

Where to buy:
Malaysia
Real and Wholesome: 150 Jalan Ampang, 50450 Kuala Lumpur.
Singapore
Papa Palheta: 140 Bukit Timah Road, S (229840) Tel: +65 9799 0420
---