Meet Blair Bowman on his first trip to KL
---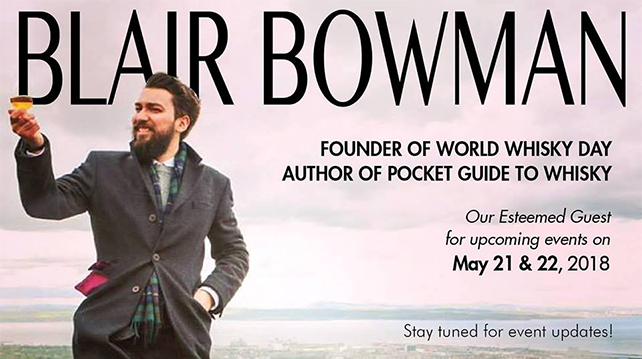 If you have not met Blair Bowman, he is a consultant and author to A Pocket Guide to Whisky. On Blair Bowman's inaugural visit to Asia, he will be hosting the following events in conjunction with World Whisky Day.

21 May 2018
Day Pass @ RM299 nett for both events
1) Drams in the Dark with Blair Bowman
Venue: Dining in the dark - Kuala Lumpur
Time: 4pm - 6pm
Price: RM238 nett
2) Hot Rum KL with Strathearn
Venue: The Rum Bar KL
Time: 7pm - 9pm
Price: RM98 nett

22 May 2018
Day pass @ RM489 nett for both events

1) Futurism of Whiskies
Venue: Forbidden City KL
Time: 3.30pm - 5.30pm
Price: RM128 nett

2) Whisky Dinner with Blair Bowman
Time: 7pm - 10.30pm
Venue: Cielo Kuala Lumpur
Price: RM398 nett

Purchase tickets here.
Call +6012 526 1335 or email events@wernersgroup.com for enquiry.
Dates : 21st May - 22nd May 2018
Address: Refer to listing.
Telephone No.: +6012 526 1335
Website: wernersgroup.com/gift/blair-bowmans-events/

---