Thirst x Brooklyn Experience
---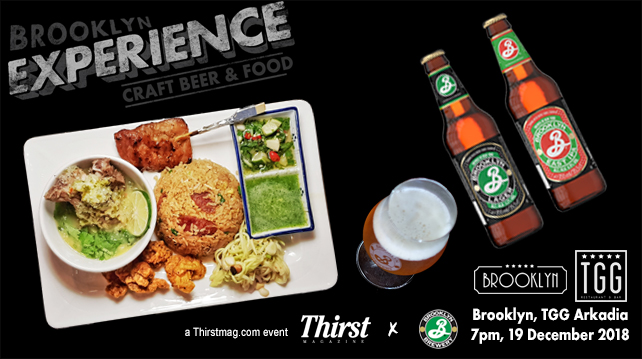 Price: RM45 per person (comes with four dishes in one serving and three beers)
As we bring 2018 to a close, we're hosting one last Brooklyn Experience in a new location – coincidentally, also named Brooklyn!
The new space, located in Plaza Arkadia, has opened up their mezzanine floor exclusively to us for the Brooklyn Experience. This is the first bar in Malaysia that serves the New York beer on draught.
As always, the session will be guided by Carlsberg's Commercial Development Manager for Craft & Specialty, Thomas Teo, with Brooklyn Lager and the EIPA for the Brooklyn Mega Set Pairing, which includes:
Brooklyn Lager - Moo Ping (BBQ Pork) & Salted Egg Chicken
Brooklyn EIPA - TGG Fried Rice Special, TGG Spicy Steam Pork Ribs & Thai Mango Salad
Play games on the day and stand to win prizes like (more) beers and t-shirts. It's a sweet way to end 2018 on a high note.
Dates : 19th Dec - 19th Dec 2018
Address: Brooklyn TGG Arkadia – Mezzanine Floor (access through the outlet) B-G-9 Plaza Arkadia, No.3 Jalan Intisari Perdana, Desa Parkcity, 52200 Kuala Lumpur, Malaysia.
Telephone No.: +603 2733 3994
Operation Time: 7pm

---