Whisky Charity Auction
---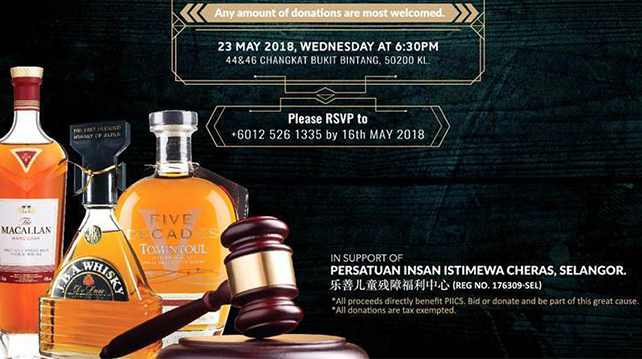 In conjunction with World Whisky Day (WWD), The Whisky Bar KL is organising 'WHISKY GIVES BACK' Charity Auction for the 4th time. All proceeds from the auction will directly go to Persatuan Insan Istimewa Cheras, Selangor (PIICS) to help maintain the home as well as fund the children's necessities and household needs.
There will be a total of 31 whisky bottles (excluding cigars and wines) in the auction.
Visit www.thewhiskybarkl.com/charity to register your bid before 16th June 2018.
Dates : 21st Jun - 21st Jun 2018
Address: The Whisky Bar KL - 46, Changkat Bukit Bintang, 50200 Kuala Lumpur.
Website: www.thewhiskybarkl.com/charity
Operation Time: 6.30pm

---