Ten lucky coffee aficionados who participated in Thirstmag contest attended a two-hour latte art workshop conducted by Università del caffè della Malesia (UDC) last Saturday.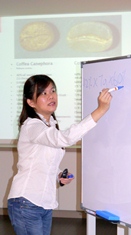 Certified coffee connoisseur Ms. Evelyn Lee started the session with a brief introduction of Illy Coffee and its brand history. Mr. Goh Chee Wan, experienced barista and coffee mixologist took over the workshop later by explaining the transformation of the perfect espresso, theory on the perfect cappuccino, milk and its magic and essentially demonstrating the latte art and creating patterns.

The group of participants, made up of café owners, baristas and other coffee addicts, got hands on with the coffee machine and their favorite cuppa in the second half of the session. Each participant got to show off their own creativity in latte art while parting milky ways and drew on foamy fluids. They also learnt about the perfect temperature of foam in order to create a solid latte art.

This beginners' workshop received positive and enthusiastic response from all the participants. It was a great opportunity to expand their coffee knowledge and to learn a new skill in crafting latte art on milk coffees.

The next Latte Art Workshop by UDC will be on the 15th of July 2012. Stay tuned on Thirstmag.com for the Contest section in July and grab a seat for yourself and a friend to this workshop.