Angel Ng
---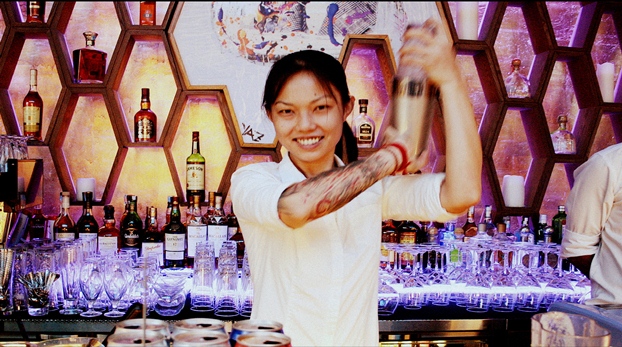 Born in Seremban, Angel has been moved to Singapore to reunite with her family when she was 6 months old and has never lived in Malaysia until a year ago when she left her 5 year corporate life. Pointing at the cuts and bruises on her hands, Angel waved it off and said: "Just another day at work." She sounds like she has done this before, but does she have what it takes to work at one of the most demanding bar in town? Kim Choong puts this goth-looking bartender on the hot seat and sees what she has under her sleeves (other than the tattoos).

How many years have you been bartending?
Since 17 during my college years but I have not been a professional bartender throughout my life. I spent a total of 4 ½ years since college to work in several F&B outlets. The first job was as a server in a famous local celebrity wine bar in Singapore. There I learned about wine and spirits and found the passion for that. Then they let me spent a month as the barback to make simple concoctions like the Snowball1. When I realized I would not be advanced further in that wine bar, I tried a few other places but remained as a barback for 8 months. Only until when I started working for a Spanish tapas bar, my bartending career took off. I was made a junior bartender to a senior bartender and then the head bartender. That was all in Singapore before I graduated college.

What did you do after graduation?
I went to do what I have studied to do. I have a double Diploma in Mass Communication and Digital Filming, Foundation Degrees in Technical Arts and Recording Arts. At that time I tried to study as much as possible to avoid getting into work force but it came to a point I had to. Since I have studied all that, I went into sales and marketing, running events and living a corporate life. 5 years later, I left.

What happened?
I got tired of it. Even though the money was better, lifestyle was more glamorous, I got exhausted from the corporate lifestyle and fell very sick. I decided then to take a break and came to Malaysia. For a whole year, I did absolutely nothing but living a totally different life from when I was in Singapore and to discover my inner self. That was the best year of my life!

You must have done 'something', where did you live for a start and how was it like?
I went to live in several places which were more rural. One of them was an aboriginal village called Kampung Pertak near Kuala Kubu Baru, there I wash clothes and bath in the river and I learned how to fish. When I was at Janda Baik at Ulu Kelang, I studied plants and exotic flowers. A lifestyle with only basic needs like water and electricity, books and hammock; I was totally out of touch with civilization.

That was a very primitive lifestyle, what brought you back?
Well, after a year, I thought it was time to get back to proper work force. I was offered the same kind of job as I left off before - back into the corporate world. But I didn't want all that, so I decided to find a job that would make me happy, somewhere that makes me feel like being in a big family. I tracked back to all the jobs I have done and which had given me that feeling – I found that it was during my work at the bar. Funny enough, within a few weeks after that thought, this job came to me while I wasn't even looking for it.

How do you see yourself fitting into this role after leaving it so long to be in the corporate world?
I look at the job as something different from just bartending like I have done during college time. I find that everything I have learned throughout my study, work and my gap year has shaped me into a bartender who not only thinks just about getting the right concoction for my drinks, but a job that is also about personality. I have put everything I know together and I really like it!

What have you learned so far from working at Circus?
I learned a lot from my operation manager Joshua as he is the one training me here. For him, it is about work ethic, professionalism and most importantly – respect for others. He is a mentor that I am happy to have, he strives for perfection in his cocktails, knowing all the information about the drinks by heart and at the same time, he makes sure that we cradle our knowledge and share it with others. Even though he is an operation manager, he has never abused his authority and wants us to approach him whenever we have any problems. That way, I learn and I am sure all my colleagues at the bar feel the same way.

Are you starting to create your own recipe?
Not yet as I've just started experimenting a couple of cocktails using wine and hopefully able to incorporate some molecular elements. I am really looking forward to finalising the recipes.

What is your preference in terms of the base for creating your cocktail?
My specialty is wine and most of it is because my first bar job involved wine and was trained to nose the varieties. So my first concoction would be with wine and I really hope to build a list of them using wine because I think there aren't many wine cocktails out there at the moment.

What's next?
I don't know. I see everything at their present form now. I am happy where I am and not ready to go anywhere else yet.

What would you say if a customer wants some advice on which cocktail to drink at your bar?
I would say go for your mood. There is a range of cocktails here at Circus that is designed to suit your mood. Or even better, try the vintage cocktails because we have recipes which are no longer made anywhere else but here.

1. Snowball is a long drink that contains avocado, liquor and topped with sprite.

---