Antoine Rouland
---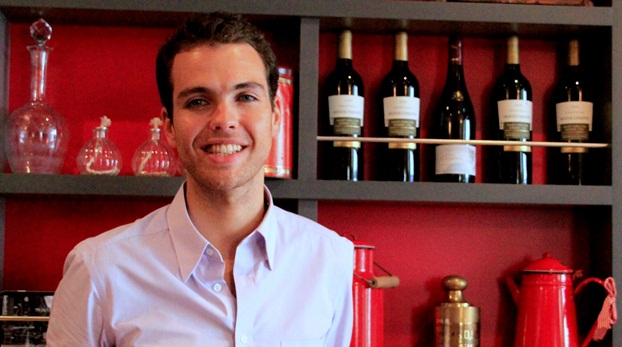 Ô Batignolles
is a French bistro offering quality wine at very competitive prices. Antoine Rouland talked to Thirstmag about the secret to their everyday full house business.
1. What is your background in the wine business?
My parents introduced me to wine, just by tasting the wine in small amounts, when I was younger. They are both wine enthusiasts so we often travelled to different wine yards in Europe where I got attracted to the beauty of wine making. I got more and more intrigued by wine making at an older age and I then worked as a wine picker being involved with the entire wine making process. I have also worked at a wine shop as a part timer during my studies. After graduating I worked in wine & spirits companies in France and in Singapore before making my passion come true.

2. Tell us more about the wine selections you have in Ô Batignolles.
Our wines are directly sourced from France and we personally select and taste all of them prior to bringing them to Ô Batignolles. We carry over 80 French wines from all wine regions in France and our focus is on independent winemakers and small batch production. Our wine selection is planned such that both wine connoisseurs and wine beginners feel excited about it. We are all about building the connections with the wineries to have a long standing relationship with the winemakers.

At O Batignolles we offer all the most famous AOC wines as well as the smaller ones such as Corbieres, Madiran and Menetou Salon as we want to promote all the French wines and not only the Bordeaux wines. The pricing of our wines goes as 30% are below $60 and 75% below 100$.
3. What is AOC and how it regulates the quality of the wine products in France?
AOC "Appelation d'Origine Controlee" is the most high end quality standard in France. It means that the wine is produced within strict geographical limits and has to abide a fixed set of rules: variety of grapes, harvest start, fermentation rule ect. The wine must also comply with a certain tasting characteristics. Wines which do not comply with the typical taste of the local product cannot bear the AOC mark, even if their recipe, grape, area of production is correct. The wine selection we carry at O Batignolles consists 95% of AOC wines. (What is the remaining 5%?)

The remaining wines are Vin De Pays label, one grade lower than AOC
4. There are over 400 French wine brands with AOC accolades, how do you choose which wines to go onto your menu?
First, we try to balance each of the wine regions with at least 10/15 AOC per region. Also for each region we determine the maximum number of AOC standard wines we can get on board (we have to optimize our storage capacity in our bar it being rather small). The way we actually choose each wine comes down to us going to each and every winery we bring our wines from to taste different wines from different AOC's. Ultimately we select our wines regarding our taste and also regarding the aromatic profile of the AOC. We try to avoid getting on board too similar AOC wines from the same region as we want to offer different tastes of each region.
5. How many labels are there in Ô Batignolles and how often do you change the selection on your menu?
We have new shipments coming in every 6 weeks and we always aim to introduce new wines to our customers. We continuously explore new independent wineries to work with and to bring their wines available in Asia. We have roughly 80 wines in our selection.
6. Your wines are served between $7 and $14 which is very affordable for imported premium French wines, how do you do that?
We have established strong relationships with the wineries in France that we work closely with in order to be able to offer high quality wines at affordable prices.

We source most of our wines directly from the wine makers without using any middle men. To create a complete French wine experience we wanted to represent all the wine regions in France. This also means bringing in wines from Bordeaux region where all wines have to go through a certain system and can't be sourced directly. So for only Bordeaux wines we have to use a middle man.
7. You could have priced the wines at a higher rate, why didn't you do that?
It's true that we could have priced our wines at a higher rate but the main idea when we set up Ô Batignolles was to offer premium French wines at affordable prices, something that is not available too often and this is something we want to commit to as much as we can. With the prices we have at Ô Batignolles our guests can try for example 3 different glasses of nice French wine for less than $25 (which can sometimes be the price for 1 glass in Singapore). We aim to have diversity and affordability and if we priced our wines higher our guests could only order 1 or 2 glasses of wine and this is not what we want as we want to introduce wide selection of wines to our guests. We prefer to sell more wine with affordable prices rather than to have high prices and less volume. We love to see our place full of wine enthusiasts sipping their glass of wine. That is the soul of a real Parisian bistro, to have a bistro packed with casual atmosphere.
8. Ô Batignolles is barely 3 months old, what do you have planned for the outlet next year?
For the coming year we have several things in plans from organizing wine appreciation courses for our guests and corporate groups to having special wine events once a month. We are also planning to invite the winemakers for wine tasting at Ô Batignolles to further build the relationships with our partners.

We are also exploring to start selling wines off premises as there has been a huge demand for this already.
---