How to be a creative bartender and up-sell your drinks?
---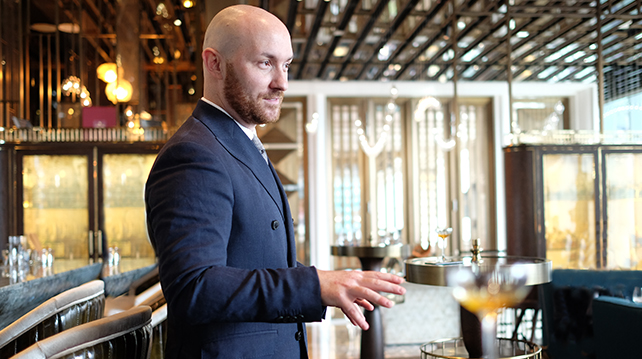 [Photos: Kim Choong]
Lorenzo Antinori was set to become a lawyer, but his interest in making connections with people led him to work in a bar in Rome which eventually brought him onto a new career path. The Italian bartender, whose enviable resumé includes working with Eric Lorincz and Chris Moore at the Savoy and Ryan Chetiyawardana at Dandelyan, is now the APAC Beverage Ambassador for the Four Seasons Hotel brand based in Hong Kong.
He shared his journey of becoming a bartender and how to upsell your bar through a methodical story-telling, like a lawyer putting his case forward.
The Fundamentals
To learn from the best, the young bartender moved to London in 2011 to work at The American Bar of the Savoy Hotel, the first luxury hotel in Britain opened since 1889. The Savoy, which he describes as the Mecca for Bartending, is the home to many classic cocktails, such as the Hanky Panky by Ada "Coley" Coleman, the White Lady by Harry Craddock, Corpse Reviver by Joe Gilmore and several more.
Every day, Antinori would be polishing glasses (and breaking them occasionally) and making the classics. As a barback, he learned about the importance of his position in keeping the bar in order. It wasn't all about making drinks, it was about consolidating the fundamentals of bartending and being able to multitask. "When young bartenders ask me how to make the best cocktails, my answer is always: Start from the bottom because there is no way of looking down, but only to look up."
Making classic cocktails and being barback might not be very exciting to some bartenders, but even the most successful people in hospitality start from the bottom. One example would be Ferran Adria, the Father of Modern Molecular Cuisine who pushed culinary boundaries when he ran elBulli. He started out as a dishwasher.
Creativity
Antinori was allowed to express his creativity after moving to work at contemporary bar Dandelyan (now called Lyaness) in London's South Bank, where his bartending style was shaped.
With solid knowledge mastered in the previous bar combined with his own culinary research, he manipulated ingredients to deliver the story of his recipes. "Storytelling is not just about creating a recipe, but it's to engage with the guests."
For Antinori, one of the important characteristics a bartender should possess is curiosity. Learning different fields outside of bartending gives bartenders different perspectives which can lead to understanding different ways to touch many lives by creating relatable stories for their guests.
Learn to sell
Seoul is the city where Antinori began his career with the Four Seasons. When he joined in 2017, consumers there were starting to appreciate cocktails. Unlike Europe, cocktails are not a part of Asia's culture, a successful cocktail bar would have to adapt to the city's trends. Drinks here is only one of the elements - the experience, music, environment, food, lighting to even the staff uniform all have a role to play with enticing customers to the bar. "Bartending doesn't stop at the bar alone," said Antinori, there are different elements in the industry that a bartender should learn and pick up in order to make the bar business work.
One of the things that the Italian bartender emphasises, is to observe and find a way to upsell your bar (and drinks) through storytelling. Whether the final result of a drink is on the texture, taste or the look, all can be achieved with knowledge and techniques.
Creating the recipes that sell
Here are a few guidelines shared by Antinori:
Ingredients
The method Antinori adopted is to apply modern analogy and current affairs to create something out of your environment. He gave an example of the recipe he created with his latest findings during his visit to a local cacao farm run by Ning Geng of Chocolate Concierge, that cacao like corn, is at risk of disappearing due to climate change. To create a conversation around this imminent topic, he crushed some cacao bars to release the natural fat, melted it, put in a bottle together with toasted corn and infused it in whisky. He then used this as an ingredient in his cocktail to bring awareness about climate change to his customers.

Cacao and corn infused whisky
Presentation
Dress a cocktail with the view from the next table. When the customers at the next table like the way the drink looks from their angle, it's more likely than not that it will appeal to them and that indirectly, helps you upsell the drink.
Writing the menu
Make it easily understandable. Most of the time when a menu is too complicated (when the bartender tries to impress), it is intimidating and confusing which eventually puts off the customers. The key is to create a menu that engages, add in some surprise elements and still make it approachable.
Breaking the rules
"The classic cocktails combo are meant to be broken," said the Italian half-jokingly. But make use of some general rules such as the rules of colour, or things that grow together get along with each other when creating a recipe.
Antinori is collecting ideas to create the menu for the new bar in Four Seasons Hong Kong. It will encompass sustainability, which is the virtue adopted by the hotel brand. It will be using waste products to make something profitable and delicious. We don't know the name of the bar yet, but you can follow Lorenzo Antinori to find out.
In his role in Hong Kong, Antinori will be overseeing the forthcoming renovation of Blue Bar as well as the cocktail programs for Caprice Bar, the Pool Terrace and In-Room Dining.
- T -
---