Negroni celebrates 100th year of creation
---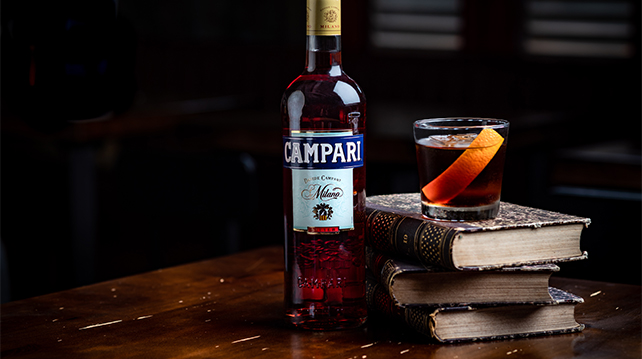 [Photo: The Old Man Singapore]
The Negroni, a simple yet iconic classic cocktail named after Count Camillo Negroni, was created in 1919 in the Count's bar, Caffé Cassoni. The Negroni's origins are well documented, something that doesn't happen very often with cocktail recipes such as the Malaysian classic cocktail Jungle Bird where the history, creator and creation date were only recently chronicled.
The Count was a flamboyant character and well-travelled. In the late 19th century, he went to the United States of America and lived in the mid-west for 5 years. He was regarded as a "sportsman". The term in that era did not carry the same definition as today, instead referring to someone who drank and gambled a lot, and Count Negroni was just such a character. He even learned the mid-west accent, travelled around on a horse, but kept his Italian fashion. A weird character that very much stood out at that time.
He then journeyed to London, where he discovered gin and took a liking to the spirit. When the Fiorentini finally returned home to have his usual at his own bar, the Milano-Torino (named for the original ingredients, this drink is now known as Americano - Campari from Milan and Punt e Mes from Torino, with a splash of club soda), he ordered the bartender to strengthen his drink by replacing the club soda with gin. Bartender Fosco Scarcelli also added a slice of orange instead of a lemon twist. There, the Negroni was born.
The bright red cocktail of equal portions gin, Campari and sweet vermouth has a white version. The White Negroni, created by British bartender Wayne Collins while in France, uses dry vermouth (Lillet Blanc is a common replacement) and Suze, a gentian liquor that achieves a similar bitter taste profile without the red colour.
You can find many other riffs of the classic Negroni online. We recommend a book by the famous cocktail historian, Gary Regan's The Negroni: Drinking to La Dolce Vita, with Recipes & Lore where he gathered recipes from around the world and selected the ones he thought tasted the best.
Negroni recipe
30ml Campari
30ml Sweet Red Vermouth
30ml London Dry Gin
Pour all ingredients into a mixing glass with ice
Stir and garnish with an orange slice
---
The Negroni has not only become one of the biggest marketing cocktails for Campari, but it has also been driving bars to donate to charitable causes throughout Negroni Week. The initiative started 7 years ago in 2012 (hey, the same year when ThirstMag.com was founded!) by Imbibe! Magazine in the UK.
For one full week in June, venues participating in Negroni Week donate part of their proceeds from selling the cocktail to a cause chosen by the venue itself. According to Campari's press release, the initiative has contributed to nearly USD2million in funds raised to charities all around the world, with over 10,000 venues in 87 countries participating in 2018.
This year, Campari is the presenting sponsor again to celebrate the 100th year of the Negroni. Obviously something big is coming along. Bartenders from around the world will be serving their interpretations and twists of the Negroni in the birthplace of the cocktail, Florence. Negroni historian and bartender Luca Picchi will be touring the world to conduct masterclasses, sharing the story of Negroni and teaching guests how to make it.
Campari even made a short movie for this:
Luca Picchi might not be in Malaysia, we don't know yet. But here are a list of bars you can visit between 24th and 30th June 2019 to try their riffs of the Negroni and to support a cause:
Kuala Lumpur
City Centre
Bar Trigona, Birch, Cicchetti Di Zenzero, Sassorosso Restaurant, SkyBar, Tujo, Zenzero, WET Deck,
Chinatown
Botak:Liquor

Chow Kit
JOLOKO

Bukit Bintang
Omakase + Appreciate

Pudu
Pahit

Bangsar
W.I.P, Knowhere Eatery & Bar, Coley
Bangsar South
Buena Brasa Gastropub
Damansara
Circa Bar, Enoteca, Gin Rik Sha, Hyde at 53M, JungleBird, Mezze Wine & Cigar Bar, Nizza Bar, Sofitel, Skullduggery, The Heritage, The Sticky Wicket Cricketer Pub
TTDI
Soma Cocktail Bar, The Pawn Room

Petaling Jaya
Iki_ya, Mrs. Jones' Parlour

Penang
Copper Bar & Restaurant, Hanjan Eatery Soju Bar, Seven Skulls, The 12 Senses
Johor Bahru
Cabinet 8 by JWC, Haiiro Usagi, T15, The INNS Bar & Restaurant

Kota Kinabalu
SOULed OUT, The Inns
For more information about Negroni Week, visit www.negroniweek.com.
- T -
---