Tatsu reveals new menu with modern flavours
---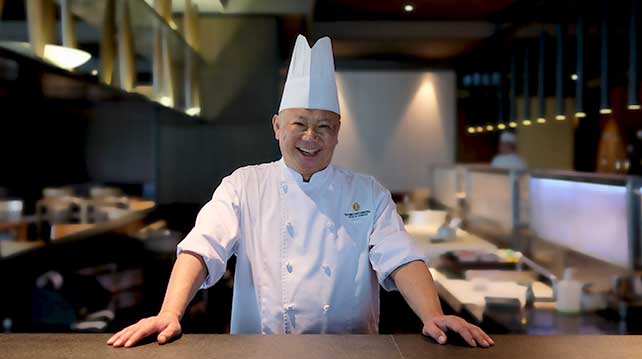 Tatsu, the anchor Japanese restaurant in Intercontinental KL is giving its menu a facelift. Chef Toshio Kando, with over 20 years' experience in Japanese cuisine, is the mastermind behind the latest menu that reflects his personality that shows simplicity with charm. Chef Kando has been the Butler for the American ambassador to Japan in Tokyo, Executive Sushi Chef at The Fish Market in San Jose, Nobu Bahamas and luxurious Waldorf Astoria Ras Al Khaimah in the United Arab Emirates before his current stint as the Japanese Head Chef in Intercontinental KL.
Served in tapas style for sharing, the new a la carte items are best described as contemporary cuisine, prepared using traditional Japanese cooking techniques and ingredients with modern flavours without losing their Japanese essence.
The following are some of the signature dishes that are replacing segments of the previous menu:
Appetiser


New style sashimi with yuzu soy and heated sesame oil
Kanpachi (or amberjack) sashimi topped with shredded ginger, served in a sesame oil and yuzu soy sauce. The sauce with its nutty aromas, tart yuzu citrus and umami finish, complements the delicately sweet kanpachi and subtle ginger heat.
Crispy duck confit on sprouts and Japanese spinach with sesame vinaigrette
Crispy duck confit over a generous bed of refreshing bean sprouts and Japanese spinach. The sweet yet tart sesame vinaigrette gives light nuttiness to the dish (like a spinach goma-ae), while adding zestiness to counter the rich duck.
Shrimp-stuffed shiitake mushroom with butter ponzu
The umami from the mushroom and sweetness from the fresh shrimp are sufficiently satisfying on their own, but it's the spicy butter ponzu mayonnaise that gives it a kick. Ponzu is a type of citrus based sauce that is tart, savoury and salty.
Rock shrimp tempura with creamy chili garlic sauce
The magic of this dish is the sauce. The crunchy tempura dipped with a silky coat of this sauce gives a flavour explosion of sweet, lobster-like rock shrimp with a gentle lingering afterburn. With its bite size portion, you just want to have more.
--------
Dobin Mushi Broth
The soup is steamed with bonito fish, shrimp, ginko nuts and shiitake. Dobin refers to the teapot that the broth is served in and mushi means steam. Intended as a palate cleanser, it's a popular dish in Japan during winter as it warms you up.
--------
Entrée
Australian Wagyu beef on heated Himalayan rock salt
Tender wagyu is placed on a slab of heated rock salt which slowly cooks the meat. This allows the salt to infuse the meat together with the plum sauce that is served on the side.
Green tea salt crusted lamb chop with Japanese sour plum sauce
The Australian lamb is marinated first with green tea salt powder and seared, then served with the same sour plum sauce as the previous dish.
Slow-cooked beef short ribs with garlic barbeque sauce
Slow cooked for 12 hours under the pressure during the simmering process, the beef is super tender and flavourful. Pair it with the buttery potato with crispy outer layer.
--------
Dessert

Chocolate tart and caramelised yuzu
The ganache is thick with added yuzu that gives it a slight tartness in the rich chocolate. Mousse is green tea base and the feather is made of white chocolate. Satisfying.
What to pair with a Japanese meal?
Traditionally, Japanese meals are paired with sake simply because a lot of Japanese food uses sake as part of ingredients. The same theory applies in western cuisine where wine is used in
their dishes, you would pair the meal with wine.
However, with the dishes introduced above, other than the 20 types of sakes offered in Tatsu, the dishes would go well with a crisp lager (Asahi), high ball (Suntory whisky in soda) or even Japanese whisky neat.
Tatsu is currently running a Nikka whisky flight promotion for lunch and dinner at RM98 nett that comes with a complimentary dessert. You get to try Nikka Taketsuru Pure Malt, Nikka Black Special and Nikka From The Barrel in this promotion that ends 31 May 2017.
---