Iki Shouten
---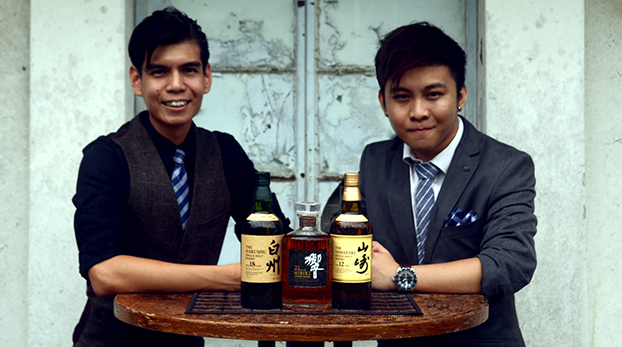 "Neat, or on the rocks?"
This was the first question I was asked as I got into the car with Andrew and MinXiang, immediately after landing in Singapore. MinXiang passed me a rock glass and starting pouring whisky into it.
"Neat," I said. I heard a sigh. Andrew at the driver's seat opened up a cooler with a plastic bag inside.
"What's that?" asked MinXiang.
"Never mind."
"Oh, c'mon man."
"Okay," said Andrew, a little sheepishly. "It's an ice ball. I prepared it so that she can have it on the rocks if she chooses to."
It was just the sort of sincere, considerate hospitality I'd get from Andrew Pang and MinXiang Yang throughout my stay. I first met them in the Valley of the Deer event in KL while helping out as a tour guide; when they found out I was visiting Singapore, they immediately volunteered to take me around.
The duo started Iki Shouten("一汽冲天") in January 2015 to bring bespoke tasting experiences and whisky classes to customers who want something different from the usual get-together. Iki Shouten hosts cozy events with whisky, sake and wine. They do tastings, masterclasses and customise solutions to alcohol-related events. Iki Shouten may only be six months old, but its profile includes some prominent corporate clients, such as LinkedIn and Singapore Airlines.
After driving me to the hotel to drop off my bags, we went on to deliver some Japanese whisky to a bulk order customer. Iki Shouten supplies Japanese and Scotch whisky at competitive prices from brand holders with presence in Singapore. Iki Shouten also sources products directly from the distillery, such as White Oak Akashi whisky. One of the reasons why Iki Shouten can offer a good price for such premium whiskies is that they do the delivery themselves. This gives them the opportunity to meet and get to know their customers.
It gradually dawned on me that Andrew was doing all the driving. You see, MinXiang doesn't drive. That means in most of the events, Andrew is the one serving drinks while MinXiang gets to do all the drinking.
Both Andrew and MinXiang conduct classes, provide service training and do delivery runs. It's a two-man start-up, very much a hands-on operation. MinXiang has a passion for spirits and experience working in the kitchen, which makes him the bartender in the partnership. Andrew has experience in the hospitality industry and is good with numbers, so he looks after Iki Shouten's cash flow. It's the perfect match, combining creative flair with financial sensibility when it comes to crafting the bar menu and running the business.
More start-ups like Iki Shouten are popping up in Malaysia and Singapore. Bartenders don't have to only be bartenders, and a love of spirits doesn't necessarily mean you have to own a bar. Iki Shouten seems like it's cut from the same cloth as Fluid Alchemy and Cocktail Solutions, which are Malaysian start-ups that provide consultancy services to bars and feature good examples of bartenders applying their skills with creative business models. They all seem to have a common mandate: provide high-quality work, and maintain a consistently true and unbeaten attitude of entrepreneurship.
For more information about Iki Shouten, visit their website www.ikishouten.com.

---