Once you go craft
---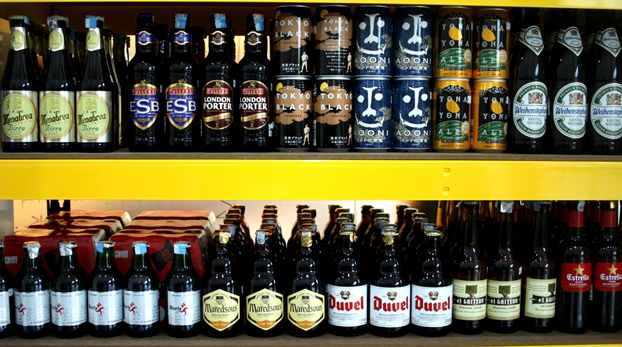 As defined in Brewing:
A step-by-step walkthrough
, craft beer produced by microbreweries is its own animal in comparison with mass produced beer as production is small, independent, and traditional. Innovation is what makes craft beers and craft brewers distinct from its peers. Their products tend to be a construal of traditional styles of brewing with a special twist. Craft brewers interpret historic styles with unique twists and develop new methods against no set standards. These brewers are also very involved in community services as they aim to have a more personal and relatable approach to their drinkers. Their integrity lies in the self-regulation free from the interference of mass production.
The difference between a craft brewer and a microbrewery can be confusing. A microbrewery produces craft beers and a craft brewery can also double as a microbrewery. Just keep this in mind: craft brewery refers to the method, flavour and style and can be made on any volume or scale; while microbrewery just means there's a limit to the production volume.
Here's one example of a unique craft brew. BrewDog, a Fraserburgh (a town in Aberdeenshire, Scotland) based craft beer has a beer called Sunk Punk. As its namesake, the ingredients were literally sunk 20 metres into the sea in a fermentation tank for two weeks, and after that they have craft beer waiting for them at the shores. Allegedly, the water maintained a steady temperature of ten Celsius - an element crucial to produce clean beer. In line with its environment, the 7.1 percent ABV pale ale also contains nautical ingredients such as buckweed (Isoglossa woodii), a type of shrub that grows in South Africa, distilled sea-salt and rum. Marketing gimmick or not, it's definitely exceptional enough to go in the craft beer category.
For maximum freshness, craft beers are better when dispensed through taps, although you can still find them in bottles aplenty. Making the switch from mass produced beer to craft beers isn't difficult as the taste notes are vast. Expect to find anything from chocolate, coffee, floral, fruity, to the more traditional flavours. You are bound to find one that's fascinating.

More or less considered a novelty in Malaysia, craft beers are easily likeable but it could still be an acquired taste. Many craft beer drinkers has expressed that after they converted, they couldn't bring themselves to drink regular beer. With the wide variety of brews available, we highly recommend that you take notes and order a different brand each time you pay a craft beer place a visit. You need not seek high and low for a good mug of craft brew; we have found two of the best places to drink them in KL. Sip them slowly to fully savour the aroma and indulge in the taste. After a couple of them, you might become a crafty enthusiast.
Three places in KL to get crafty:
Taps Beer Bar (Bukit Bintang)
One Residency, 1 Jalan Nagasari, Off Jalan Raja Chulan, 50450, Kuala Lumpur.
Opening hours: Mon-Sat: 5pm-9pm, Sun: All day from 12pm
Taps Beer Bar (Mont Kiara)
G-1, 1 Mont Kiara, 1, Jalan Kiara, Mont Kiara, 50480 Kuala Lumpur.
Opening hours: Mon-Sat: 11am-9pm; Suny: All day from 11am
D1-G4-06, Solaris Dutamas, No. 1, Jalan Dutamas 1, 50480 Kuala Lumpur, Malaysia
Opening hours: Mon - Sun: 3pm-10pm
86 Jalan SS 21/62, Damansara Utama, 47400 Petaling Jaya, Selangor.

Opening hours: Mon-Thurs: 3pm-1am; Fri-Sat: 3pm-2am; Sun:3pm-1am
---