The Eiger Sanction (1975)
---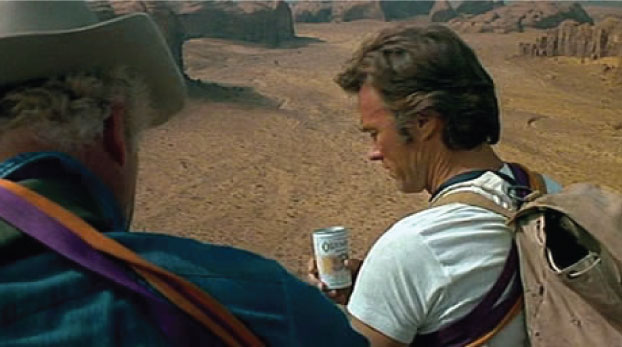 Thirst On Screen 7
The Drink: Beer

The Story: Dr Jonathan Hemlock (Clint Eastwood), an art professor and former Government assassin, is blackmailed out of retirement by the mysterious organization 'C2', for one more 'sanction' (authorized assassination).

The target is a member of an international climbing team making an attempt on the north face of the Eiger in Switzerland. Which member of team is to be killed is not clear, so Hemlock will have to make the climb and figure out who it is – all that is known is that the man walks with a limp.

Hemlock goes to Arizona for training with old climbing buddy Ben Bowman (George Kennedy).

Bowman puts Hemlock through a tough training regime, including endless runs round the wilderness with 'George', a sexy native American girl who says nothing but runs fast like a leopard.

On a climb up an incredibly difficult pillar of rock in Monument Valley, Hemlock and Bowman reach the top:

Bowman: Once you get over there, you're gonna wanna climb. That's the way you are. Wanna beer?

They are sitting on top of a narrow pillar of rock, miles from anywhere. Hemlock looks at Bowman as if he's nuts

Hemlock: You gonna call room service?

Bowman: We got beer.

Hemlock: You haul beer up this rock, you're insane.

Bowman: I may be insane but I'm not stupid (he reaches into Hemlocks backpack and pulls out some beers) I didn't carry it you did, in your pack!

Hemlock: (Takes a beer) Christ I oughta throw you off this pillar – besides, its warm.

Bowman: I'm sorry, I thought you'd draw the line at haulin' ice

With an unconvincing plot, script and casting, this is not one of Clint's better efforts. For a proper, gripping 70's assassination thriller, the Day of the Jackal1 is all you need. And do write to us if you find any Thirst on Screen moments you wish to share.

Where to experience in KL: Well, not KL, but Sabah. Once you are at the halfway point of the climb of Mount Kinabalu, there isn't much to do at the Tanah Rata guest house. We are not sure if there is a bar, so if you haul case of beer up there (with ice) you could be popular.

1. A novel written by Frederick Forsyth about the attempted assassination of the French President Charles de Gaulle. It received the Edgar Award in 1972 for Best Novel from the Mystery Writers of America.

---