Thirst x Brooklyn Experience: Second edition
---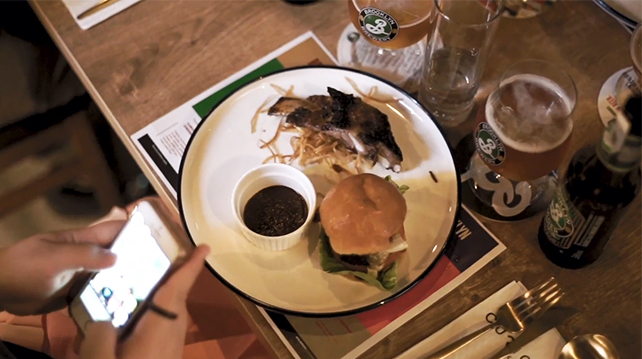 As part of our six-month Food Series, Thirst Mag is collaborating with Brooklyn Brewery, a New York-based award-winning craft beer brand. The second edition in our food series celebrated the harmonious coming-together of Brooklyn's beers, the Brooklyn Lager and the East IPA, with new KL eatery Curious Kitchen's signature dishes.
Similar to our first session, Carlsberg's Commercial Development Manager for Craft & Speciality Thomas Teo told the story of how Brooklyn Brewery started out in 1988 in Williamsburg. The Brooklyn Lager, which is a flagship beer for the brand, has a firm malt centre supported by refreshing bitterness and floral hop aroma. The Brooklyn East IPA on the other hand, has a clean, bold balance and a piney aroma.
Instead of being paired individually with Curious Kitchen's dishes, guests got to taste both beers at the same time so as to identify the distinctive flavours and appreciate the beers more intimately. After many moments of sipping and sharing (from Thomas's part), the guests were served the Curious Chili Cheeseburger Sliders and Iberico Pork Ribs. That course was soon followed by the eatery's Pan Seared Salmon Linguine and Lamb Skewers.
In between the drinking, eating and mingling, guests were encouraged to pick up the jars in front of them as they contained key ingredients of the Brooklyn beers. There were malted barley, hops and wheat for the guests to sniff and interact with. Talk about an educational experience!
If you missed out on this edition, the outlet is running the promotion until 31st October 2018 while stocks last.
Food & beer promotion
CURIOUS CHILI CHEESEBURGER + 1 BROOKLYN LAGER
Promotion price: RM68+
Normal price: RM73+
IBERICO RIBS HALF SLAB + 2 BROOKLYN LAGER
Promotion price: RM156+
Normal price: RM166+
PAN SEARED SALMON STEAK LINGUINE + 1 BROOKLYN EAST IPA
Promotion price: RM 63+
Normal price: RM 68+
LAMB SKEWERS + 2 BROOKLYN EAST IPA
Promotion price: RM 81+
Normal price: RM 91+
Beer promotion
Brooklyn Lager @ RM28 per bottle
Brooklyn IPA @ RM28 per bottle
Four bottles @ RM100
Stay tuned to this space for the next Brooklyn Experience! Follow us on Facebook and Instagram for updates.
- T -
---