Weird brews
---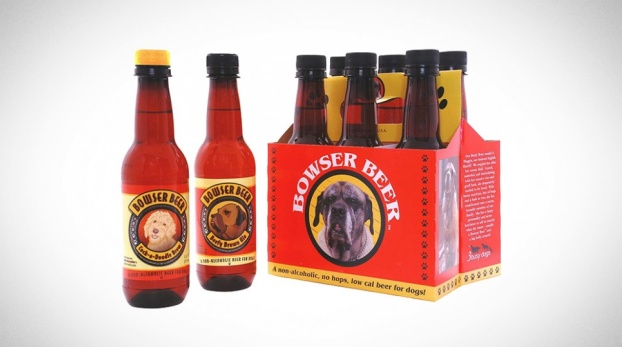 Beer For Dogs
Bet Lassie wishes he had one of these
With owners craving a need to humanise their dogs, an inventive company has gone out and created a canine approved beer. Bowser Beer gives dog lovers the opportunity to sit on the porch and chug back a cold one with their favourite pet. The made for dogs only beer is actually a healthy meaty beverage with health boosting properties without containing an ounce of alcohol.You can even customise the label and have your dog's picture on it!

Wasabi Vodka
Pass the salmon, keep the soya sauce
We know flavoured vodka is all the rage these days but Polish vodka brand Wyborowa has taken things a tad too far. The brand's Oddka line offers a different take on flavoured vodkas by offering a series of bizarre flavours, the latest of which happens to be Wasabi. But if you think having a vodka flavoured after a sushi condiment is weird, wait till you hear what other flavours Oddka has already put out—Apple Pie, Fresh Cut Gras and Salty Caramel Popcorn.
Cynical Tea
Fancy a spot of 'yeah, whatever dude?'
Tea has always been associated with a sense of peace and laid back calmness, Cynical Tea however promises the opposite. The tea brand offers the usual flavoured teas such as Black Tea with Orange, Chamomile and Mint and Green Tea with Jasmine, except they're all named and branded differently. Think humorous names such as 'Get Along With Your Coworkers', 'Be a Better Parent' and 'Erase Your Past' and you get a rough idea what the owners of Cynical Tea are getting at.

Bag the Wine
High-end boxed wine purses hit high street
Boxed wine has always had the stigma of being frowned upon for its cheaper non-tradtional packaging. That perception may change though now that Swedish company, Vernissage are set to release a line of designer cardboard wine handbags. The funky and stylish (admit it, they do look cool), bags were developed by Vernissage and are slated to be offered in three varieties – Red (Syrah & Cabernet), White (Chardonnay & Viognier) and Rosé.
This Beers' Pretty Ballsy
No, really
Word is this brew initially began as an April fool's joke. However, due to public demand, Wynkoop Brewing Company based out in Colorado have gone ahead and produced Rocky Mountain Oyster Stout- a dark beer, which boats bull testicles. The beer features home-grown base malts, roasted barley, seven specialty malts, sea salt, Styrian Goldings Hops and three BPBs, which Wynkoop insists stands for balls per barrel.
---