Wheat beer varieties and their stories
---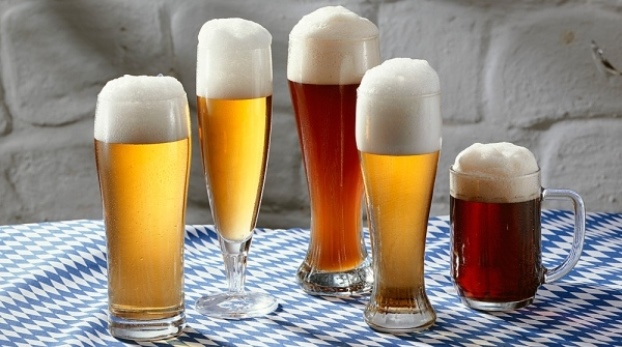 We have started our beer series with Malaysia Beer History. On the beer varities end, we will talk about the different types of beer, their history and brewing methods. This article is about one of the earliest brew that went into industrial scale - wheat beer.
Wheat beer is a top-fermenting beer brewed with at least 50% wheat, barley, water and hop. There is the white wheat beer in Germany (weissbier) and Belgium (Witbier) and there is the dark wheat beer. It is such an old type of beer before the filtering process was used, wheat beer is very often served with a sediment.

There are two types of wheat beer, one originated from Bavaria (weissbier or weizen) and another from Belgium (witbier in Dutch or biėre blanche in French). Weissbier, weizenbier, witbier and biėre blanche – meaning "white beer". It is called "white" as "wheat" shares the same etymology root with "white" and also because of the pale colour of the beer.
Although there is also the darker version of wheat beer but we will be focusing on the pale version this time.

Bavaria

History: Since the first recorded brewery in Bavaria in 800AD, wheat beer has not had a consistent production due to the unpredictable harvest of wheat. It was for the same reason, the Bavarian authorities limited the use of wheat to bakery and let barley be the only ingredients for beer brewing. Knowing the Bavarians, whom at any given time would prefer beer over bread, had led the Bavarian authorities to pass the law in restricting the use of wheat in beer brewing entirely from 1447, of which law became written in the famous Bavarian Purity Law 1516.

The right to brew and sell weissbier became available again in 1520 but with one monopoly by a Duke Sigismund von Degenberg, a land owner in Schwarzach. The right was granted by the ruler of Bavaria, Duke of Wittlesbach and lasted until 1602 when the last Duke of Degenberg died without an heir. Duke Maximillion I, the successor in the House of Wittlesbach in Bavaria at that time, then became entitled to Degenberg's estate, including the brewing privilege for Weissbier. He seized the opportunity and monopolised the weissbier market and had his brewery moved to Munich. He started selling weissbier at his inn in 1605. The selling of weissbier had done Maximillion I a great deal as he got through the 30 year war by paying the soldiers with his beer. After the war, he set up brew houses all over Bavaria and that monopoly made as much as one third of the state's revenue.

King Ludwig II (Image Source: Wikipedia)

Weissbier's popularity however, died down in the early 18th century and King Ludwig II decided to sell off the right to George Schneider I, a brewer in Bavaria in 1872. That ended the two and a half centuries of wheat beer monopoly in Bavaria.

At the current time, weissbier is also brewed in America, Australia, Canada, UK and Japan.

Varieties: Weissbier or weizen

Notes: Banana, bubblegum, sour, spicy, phenolic
Other verions with less wheat:
Hefeweizen - ('hefe' means yeast) refers to unfiltered wheat beer, allowing the yeast to stay active during bottling to continued the fermentation
Kristallweizen - filtered wheat beer that is clear
The darker versions:
Weizenbock

Dunkelweizen - Similar to Hefeweizen but uses caramelised or roasted malts that give the beer an overlay of chocolate or nutmeg flavour.
Weizeneisbock - Made by brewing a very strong bockbier (means "strong bier" in German) and freezing it at the end of fermentation to crystalise part of the water, increasing the alcohol content of the beer and concenrate the beer flavour. It is a sweet and strong beer that can contain alcohol as high as 12% by volume.

Belgium

History: Beer brewing started in Belgium during the First Crusade (1096 – 1099) and was distributed by monks to raise funds. Wheat beer was originated in Flanders, the Dutch speaking part of Belgium (Flemish) in the 14th century. The traditional method used a mixture of wheat and barley, water and gruit (mixed herbs) before hops were introduced and added to the recipe.

Unlike Bavaria, there was not restriction on the brewing method in Belgium and therefore, more varieties were available for Belgium beers. However, wheat beer in Belgium encountered the same decline as in Bavaria and in 1955, the last brewery closed its door. Only 10 years later, Pierre Celis in Hoegaarden consulted Tomsin of the last brewery for the recipe to brew wheat beer again. This is the famous Hoegaarden beer founder who made witbier so popular the beer adopted the name of the town itself. The brewery was later sold to Interbrew (now InBev) in 1985 and was decided that it should be moved to Jupille in 2005 but that plan did not succeed.

The first witbier outside of Belgium was in Austin, Texas where Pierre moved to using the money he received from selling his share in Hoegaarden. He brewed what he said to be the original Hoegaarden recipe, at the same time, the same recipe was also brewed in Belgium, which is the now Celis White. However, Pierre Celis closed his brewery in Texas and sold the brand name and equipment to Michigan Brewing Company, the latter ultimately closed down in 2012. The only Celis White left brewing remains in Belgium til today by Brouwerij van Steenberge.

Varities: witbier (Dutch white beer) based on Belgian tradition using coriander and orange peel for flavouring.

Notes: Vanilla, herby, honey, spicy, orange citrusy sometimes fruity if fruits are added to the fermentation process. Slightly more sour than the Bavarian style.

Varieties derived from this category: Sour beer such as Berliner Weisse, gose and lambic

(Image source: Eigenes Wer)

Berliner Weisse
A recipe brewed by a doctor J.S. Elsholz in the 1640s in Berlin though there was also claim that says the beer was brewed as early as 1572 in Berlin.

Berliner weisse uses 25% to 50% wheat and drunk young. In more modern days, second fermentation and the adding of Lactobacillus are said to deliberately make the beer sourer and contain low alcohol volume at maximum 3%. The taste is so acidic that sometimes it is thought to be "off". Traditionally it is served in a bowl shaped glass with a shot of raspberry or woodruff-flavored syrup to cover the sour taste. In Berlin, it would be a straight "red or green" (the colour from the syrup) when this beer is ordered.

There are currently only two Berliner Weisse breweries which are actually located in Berlin. The recipe is now brewed in different parts of the world and still being called Berliner Weisse, though the name should only apply to weisse brewed in Berlin as protected by law in Germany.

Notes: Sour, fruity, fizzy and refreshing (Napolean called it Champagne of the north)

(Image source: Bayerischer Bahnhof Gasthaus & Gosebrauerei)

Gose
The recipe was originated in Goslar, Lower Saxony. Gose took the name after River Gose which ran through Goslar that provided the water for the brew. Goslar was rich with minerals and so was the water. The salt in the river water was the main distinctive ingredient of the beer. After gose-making migrated to Leipzig, the recipe started to use slightly salted water to resemble the naturally saline character in River Gose. The production of gose was stopped in the 1950s under the German Communist regime but made a comeback after the Berlin wall was pulled down in 1989.

Gose is usually served in a cylindrical glass. It tastes sour and saline with coriander and hops spiciness. Like Berliner Weisse, raspberry syrup is sometimes added to gose for a smoother after taste.

Notes: Salty, sour, herby and lemon tartness

(Image source: Donderwolk from nl)


Lambic
This recipe uses only 30% wheat and the rest is barley. It is not sure when this recipe was created but the earliest record in 1559 mentioned it being an old recipe. This beer can only be brewed in the southwest of Brussels for the existence of a specific microorganism "Brettanomyces Bruxullensis" which is most active between October and May, the cooler time of the year. This microorganism is contained in the yeast used to brew the beer and encourages a spontaneous fermentation unique lambic. Lambic uses old dry hop and therefore lack the bitterness like in lager which uses young hops.

One of the most popular derivations of lambic is lambic fruit beer where fruits are added during the second fermentation. Others are:

- gueuze: a blend of young and old lambics
- kriek: sour cherries are added for second fermentation before bottling
- faro: a blend of lambic and light beer with sugar added, then bottled and pesturised to prevent further fermentation
- mars: a weak second run of lambic brew, no longer available.

Notes: Sherry-like, cider, dry with sour after taste

How to serve wheat beer:

1. Rinse the glass in cold water.
2. Hold glass at an angle to allow the beer to pour smoothly along the side of the glass but don't completely empty the bottle.
3. Leave a finger width of beer in the bottle swirl the content to agitate the yeast.
4. Pour the last bit of the beer from the bottle, now you have a perfectly frothed head for your beer.
In conjunction with our 3 months beer series starting from August 2013, we will be featuring more types of beer around the world and tell you where you can enjoy them in Malaysia.

From August to October 2013, every Thirst's reader can enjoy a 10% discount on total bill in Taps Beer Bar, where over 100 types of imported craft beer from around the world are available on tap and in bottles. How to claim your 10% discount voucher? Register here and confirm your email. Present the print out voucher to the bar before your order.
The best way to learn about new beers is to taste them. Please refer to the bottom for the list of wheat beer available in Klang Valley where you can find them.
Weissbier
Ales & Lagers
Weihenstephaner Hefeweissbier
Anderson Valley Summer Solstice

Brotzeit German Bier Bar & Restaurant
Paulaner Hefe-Weissbier
Hacker-Pschorr Sternweisse Weissbier
A variety of weissbier mixes

Brussels Beer Café
Franziskaner Weissbier Dunkel
Konig Ludwig Weissbier

Taps Beer Bar
Weihenstephaner Weissbier
Hitachino Nest Beer White Ale
Hitachino Nest Beer Weizen

Witbier
Beer Junction
Sint Bernardus Wit

Brussels Beer Café
Hoegaarden White
Hoegaarden Rosée

Bruxale
Lefebvre Blanche de Bruxelles
Taps Beer Bar
Kooinda Belgian Witbier
Holgate Brewhouse Witbier

Lambic
Ales & Lagers
BOCQ Agrum
BOCQ Apple

Beer Junction
Anker Boscoli Mixed Berries
Brussels Beer Café
Belle-Vue Kriek

Taps Beer Bar
Mikkeller Lambic Spontancranberry
Mikkeller Lambic Spontanredcurrant
Mikkeller Lambic Spontangrape
Mikkeller Lambic Spontancassis
To keep the discerning drinkers' community together, we have created a forum to discuss about everything drinks related. Visit our forum at www.thirstmagforum.com.
---