Stone Ruination 10th Anniversary IPA
---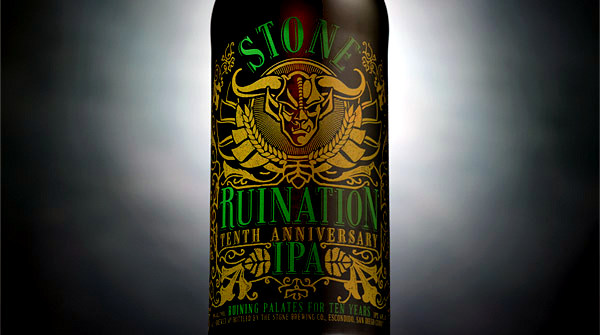 When they say "ruination", that refers to "ruining" your palate.

Stone Brewing Co. in California is celebrating their 10th anniversary this year in brewing one of the hoppiest beer in the world.

Their original creation – the Stone Ruination IPA is brewed with 2.5 pounds of hops, doubling it means they are using 5 pounds (2.26kg) of hops in each of the beer barrel!

This hoppy beer has a deep gold colour, a very strong fruity hops flavour with malty base. There is also a lemony and tropical fruit aroma with a hint of spice and mint. Here is the tasting note:

"An abundance of tropical fruity hop flavors upfront, and carrying throughout the palate. A pleasant maltiness balances the hops about mid-palate. Finishes with a long, lingering clean bitterness."

It sure sounds like it will leave a long lasting bitterness on your "whole" palate and you can't taste anything else after this beer.

Guess what type of food pairing suggested for this beer by "Dr Bill" Sysak – the Master Pairing in Stone Brewery? Kimchee, ceviche, and bacon wrapped jalapenos/habaneros – strong and spicy food as appetisers. There is also a list of main course, desserts, cheeses and cigars, but we think that our tongue would be so "ruined" right after the appetiser we might as well stick to just the beer for the night.

This very bitter beer is not only available in the US; you can now get your hands on a bottle at the Brewers' Craft in Singapore.
---