Mary's On The Rocks
---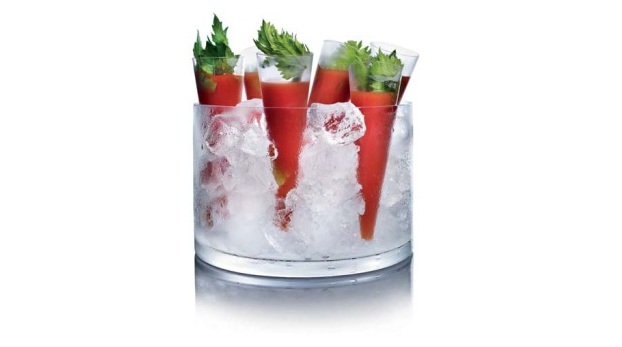 This recipe has all the taste, color and sensation of a Bloody Mary, packed into a single shot glass and served in a unique glass ice bucket. An excellent accompaniment to any brunch, try Mary's on the Rocks with Russian Standard Platinum, a vodka of unparalleled energy and clarity. Platinum is sure to meet the demands of the most dynamic and discerning drinkers across the globe.

Ingredients
25 ml of Russian Standard Platinum
15 ml Tomato juice
1 dash Tabasco sauce
1 dash Worcester sauce
1/2 Cherry tomato
Salt to taste
Celery leaf
Crushed Ice

Serving Tools
Long Shot Glass
Cutting board
Jigger
Glass ice Bucket
Fruit Knife
Stirrer

Instructions
1. Take a cold long shot glass and pour 15 ml of cold tomato juice into it. Add 2/3 drops of Tabasco sauce (to taste).

2. Add 2/3 drops of Worcester sauce and a pinch of salt.

3. Pour 25 ml of Russian Standard Platinum.

4. Take a glass bucket and fill with crushed ice.

5. Place six Mary's on the Rocks into the glass ice bucket.

6. Cut a celery leaf and garnish.

---