Celebrity endorsed drinks
---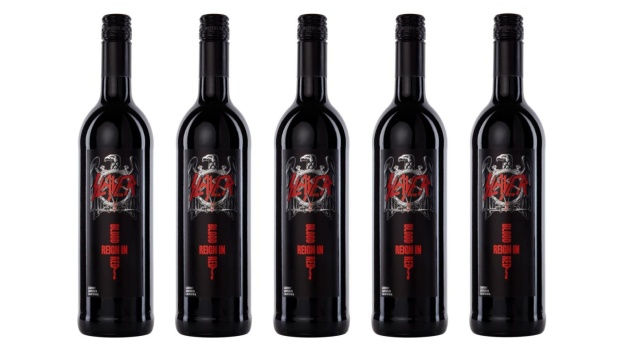 Talent: Slayer
Occupation: Death-Metal Band
Beverage: Wine
Taking a que from AC/DC who launched a wine collection early last year, Death Metal band Slayer has released its own limited edition vintage. The wine called Reign In Blood ( named after the band's 1986 album), is a Cabernet Sauvignon from California. Sadly, the US$105 bottle is only sold in Sweden.


Talent: Ferran Adrià
Occupation: Celebrity Chef
Beverage: Pepsi
We doubt Adrià, the father of molecular cuisine, would have served Pepsi in El Bulli but that hasn't stopped the iconic Spanish Chef from being featured on one of its cans. The limited edition can though is part of a series belonging to a Pepsi campaign named 'Brightest Minds', which Adrià is a part of along with luminaries such as palentologist Jack Horner and artist Mikel Urmeneta.
Talent: Diane von Furstenberg
Occupation: Fashion Designer
Beverage: Evian
Yes, we do know Evian is fashionable, as far as bottled water goes anyway, but that hasn't stopped the brand from securing the talents of the world's foremost fashion queens. Furstenberg helped design a limited edition Evian glass bottle which features the words 'love is life' emblazoned on its neck for the coming New Year.
Talent: DJ Pauly D
Occupation: Reality Star
Beverage: Pre-Mixed Cocktails
It's pretty hard to believe a show like Jersey Shore could have made so many overnight stars and inspired so many endorsed products. The latest Jersey Shore spin-off a line of pre-mixed cocktail drinks dubbed Remix Pre-Game Cocktail, which is a collaborative effort between Paul 'DJ Pauly D' DelVecchio and U.S. liquor entrepreneur David Kanbar. The Vodka based concoction offers a variety of flavours, most of which are fruit inspired such as starfruit and strawberry.
Talent: Grateful Dead
Occupation: Rock Band
Beverage: Beer
Legendary rock band Grateful Dead has partnered with renowned micro brewery Dogfish Head Craft Brewery for a one off brew named 'American Beauty'. The Dead-approved beer is a strong pale ale made naturally with all-American hops and barley.
Talent: Rolling Stones
Occupation: Rock Band
Beverage: Whisky
What better way to usher in 50th Anniversary of one of the greatest rock bands ever. Rolling Stones have formed a partnership with Japanese Whisky maker, Suntory to release a limited edition Rolling Stones 50th Annniversary Whisky. The bottle sports the Stones' signature motif and comes in its very own case. Fans of the band however need to fork over US$6000 to own a bottle though, which only 150 will be made available.
---