Experimenting cocktails at Rilís Bangsar
---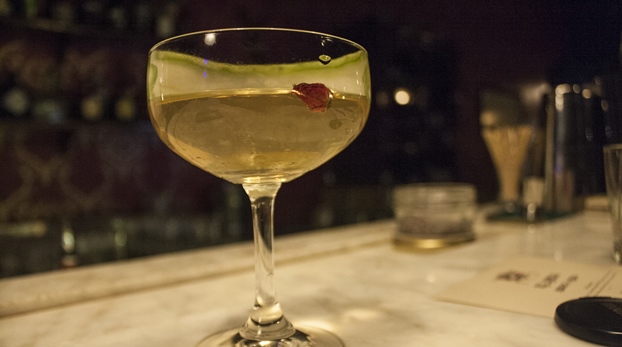 Recipes by James Barker

Ril's Bangsar recently hosted a launch, one year after their opening. Although it is not a common practice in Malaysia, some restaurant owners feel that they are only comfortable in launching the establishment when they are ready to go full force.

Nothing much has changed at Ril's except the cocktail menu, which is also why we are interested to find out more. All we knew was that someone new is in town; someone who caught the attention of the bar owners during their visit to London; someone who is into the stuff. Read about James Barker's profile here.


After the launch, we were invited to the bar to try out a few news recipes that James were putting together. These experimental cocktails are making into the new Ril's cocktail menu in 2014 and we are given three of them here as a snippet. The recipes of the new cocktails are shown at the bottom of this article.

The experimental cocktails


Morning Dew
Recipe
60ml Hay-infused Ketel One Vodka
15ml Dry vermouth
15ml Rose petals and hibiscus water
a dash of Ril's Chrysanthemum & Ginseng bitters

A Martini style cocktail served in vodka instead of gin with rose petals and hibiscus, sweeter and less dry. It is designed to suit the female palate. It tastes less alcoholic with a feminine touch but it does not mean that the drink is less strong than the original version.

James created this cocktail for Camden Town where he grew up and lived until just a couple of months ago when he moved to KL.


The Wink
Recipe
30ml Rhubarb and apple infused London Dry Gin
10ml Cointreau
a dash of Peychaud bitters
Absinth

It is a twist of Tony Conigliaro's Wink but instead of sugar syrup, James used rhubarb and apple infused gin. This recipe is closer to The Sazerac which base spirit is American whisky. However, it carries the zesty note that is closer to Conigliaro's Wink. It is a good transgression from Morning Dew but we won't mind having the sequence reversed for this drink tastes less strong and more on the aperitif side that prepares our palate for stronger drink ahead.


The Ril's Flip
Recipe
Aperol, Campari, Yellow Chartreuse, a whole egg, sugar and orange bitters
30ml Aperol
30ml Campari
2 dashes Yellow Chartreuse
1 barspoon sugar syrup
a dash of orange bitters
Egg

This is a smooth creamy mouth feel cocktail that is whipped up in duck fat and egg white. You heard us right – duck fat. The drink is based on Duck Fat Sazerac's recipe but made into a flip (a class of drink that is prepared with a frothy top).

The rye whisky used in the cocktail was "infused" with duck fat for three days for the fat to rise to the top. Freeze it for another 2 days and remove the fat. This technique creates a smooth texture to the spirit and gives you a silky mouth feel. We would like to try the bacon infused one someday.

Drink this last, it coats your palate with creaminess and gives you a sense of satisfaction.


Bobby Burns
Recipe
60ml Singleton 12 YO
15ml Dom Benedictine
20ml Amaro Montenegro
a spray of Lagavulin 16 YO
a square melon with a drop of Punt e Mes

This drink uses Amaro Montenegro as sweet vermouth for the original recipe. Amaro gives a little bitterness aftertaste and not as sweet as using vermouth and less aromatic. Peatiness from the Lagavulin is apparent on the nose but it is completely different on the palate. This half twisted Bobby Burns tastes like an aperitif and can be a good starting drink right before dinner.
The Transatlantic Belle
Recipe (Please ask James when you visit him at the bar)
It is another drink created for the ladies. Lavender and anise bitter are from Southern Europe, crossing the Atlantic, you find cucumber from South East Asia! We were very much hammered by the time we had this drink and the editor's scribble is so illegible we are unable to re-produce the notes. Please ask the bartender about the recipe when you visit him next.
The 2014 menu
Visit Ril's Bangsar to find out the rest of the cocktail menu.
(Photo source: Ril's Bangsar)
The Shapiro Effect
Hendricks, sake, cucumber, salted syrup, celery bitters
A great palate cleanser based around botanical, salty and light sweet flavours.
Hendricks gin is tempered down with sake, infused with cucumber and stirred down with salt syrup. An mellow chrysanthemum touch is delivered through Ril's 'Elysian' bitters.
Black Butterfly
Angostura 7, Amaro Montenegro, Fernet Branca, rose syrup
A bittersweet blend of earthy, floral and menthol flavours.
Built over ice with Angostura 7 year old rum as a base, Amaro Montenegro is added along with a touch of herbal Italian fernet. Balanced with rose syrup and served on the rocks.
Square Melon
Yamazaki 12, Punt e Mes, fennel syrup, crushed cardamom, melon foam
Simple and surprising. Twelve year old Japanese whisky, stirred down with fennel syrup and a crushed cardamom pod. Topped with honeydew melon foam.
Ril's Bangsar
30 Jalan Telawi 5, Bangsar Baru, 59000 Kuala Lumpur, Malaysia.
Tel: +603-2201 3846
---