Gin Jubilee KL Chapter
---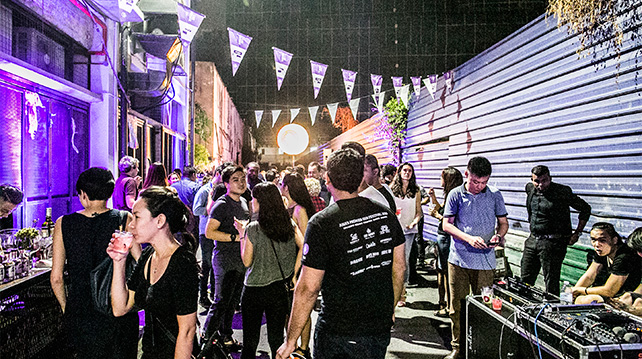 East Imperial Gin Jubilee, a gin focus festival that entered Kuala Lumpur last year is back again with more activations and brands. There will be masterclasses, pop ups in participating bars, meet brand ambassadors, Best Gin & Tonic competition and also Gin Lane, the street party that rounds up the festival.
Expect to try gin labels such as Hendricks, Citadelle, Gin Mare, Ford's Gin, Botanist, Bombay Sapphire, as well as new brands in Kula a Lumpur, Kyro and St George. 21 bars are participating this year using these brands in the Best Gin & Tonic competition, where consumers get to vote their best. A panel of judges will also be making their rounds to try these cocktails in a 3-day tour leading up to the Gin Lane Street Party on Saturday.
Take part in the Best Ginstagram Post for a chance to win a 3-day trip to Singapore to experience "Asia's Best Gin & Tonic" grand finale. Follow East Imperial on Instagram, post a picture of your favourite bar's Gin & Tonic, tag East Imperial, accompany the post with the bar's name, and use the official hashtag #GinJubilee2017.
Plan your gin experience through guest shifts, bar hop, special deals and cocktails, also masterclasses (M) in the schedule below:
Events
13 September
6pm – 10pm: Guest Shift with Sam Egerton from Charlie Parker's @ Birch
Start off Kuala Lumpur's jubilee with the one and only Sam Egerton, a key visionary behind the popular speakeasy in Sydney, Charlie Parker. Sam will be behind the stick all night and shaking up a gin storm.
(M) 1pm – 3pm: St. George Gin Masterclass featuring Sam Egerton from Charlie Parker's @ Birch
Sam Egerton is one of the visionaries behind the recently opened Charlie Parker's bard in Sydney. Same will be sharing valuable insight into the creative of the venue from concept to execution and the trials along the way. Register via alvin@birch.com.my.
14 September
(M) 1pm – 3pm: Citadelle Gin Masterclass featuring Micaela Piccolo @ IKKI Lounge
Maison Ferrand's Asia Pacific Brand Ambassador, Micaela Piccolo leads a masterclass starring Citadelle, a true French gin made in the heart of Cognac by Master Distiller, Alexandre Gabriel. Open to trade and consumers. Register via lini.pong@twe.my.
(M) 2pm – 4pm: Kyrö Gin Blending Workshop @ Wholly Spirits
An intimate session with Kyrö Distillery's Napue Gin Ambassador Mauricio Allende on making your one-of-a-kind gin. Register via info@whollyspiritsasia.com.
5pm till late: Sail The West Winds @ Locker & Loft
Locker & Loft teams up with The West Winds Sabre and East Imperial tonics to present their very own special Gin & Tonic twist.
(M) 7.30pm till late: Syrups with Shelley's Feat Callan C Green Takeover @ Shelley Yu's Bangsar
An evening with the Shelley Yu's team and the inimitable Callan C Green of Wholly Spirits discussing the wonderful world of The West Winds gin, learning about the limitless possibilities of syrups and cordials. Register via reservations@shelleyyus.com.
8pm – 11pm: Kyrö Guest Shift with Mauricio Allende @ Pahit
Mauricio Allende, Brand Ambassador of Napue Gin hailing from Kyrö Distillery Company will be behind the bar to share his knowledge on Napue Gin and shake up a gin storm.
9pm till late: Jack Rose presents Nath from Peek-a-Boo @ Jack Rose
Nath Arj-Han hailing from Peek-a-Boo Bangkok helms the bar at Jack Rose for one night only, bringing to guests his world-class gin creations.
15 September
7pm till midnight: The St. George Switch @ Birch & Jack Rose
Purchase the jubilee Gin & Tonic renditions from Birch and Jack Rose to enjoy free rides between the two bars with Grab & Uber on the night.
7pm – late: Time Out KL Gin Ramble
TimeOut KL exclusive event.
(M) 7.30pm till late: An Evening with Tasha Lu @ Ril's Bangsar
A fun session with Regional Brand Ambassador Tasha Lu on all things Hendrick's gin. After the masterclass, dance the night away with live music and a bar takeover! Register via
reservations@rils.com.my.
8pm – 11pm: Kyrö Guest Shift with Mauricio Allende @ Skullduggery
Mauricio Allende, Brand Ambassador of Napue Gin from Kyrö Distillery Company, brings his magic to Skullduggery for a second night through the jubilee.
9pm till late: The Citadelle Soiree: Guest Bartending with Micaela Piccolo @ HYDE at 53M
Maison Ferrand's Asia Pacific Brand Ambassador Micaela Piccolo join hands with the team of HYDE bar for a Citadelle Soiree with specials on one-of-a-kind Citadelle Gin & tonics all night long.
16 September
6pm till midnight: Gin Lane Street Party @ Plaza Batai, Damansara Heights
Street party with music, food and drinks at RM 25 all night long.
Participating bars in Best Gin & Tonic competition:
Insan Nurull from Pahit (Kyrö Napue)
Golam Kibria from Jack Rose (St. George)
Ali A. from PS150 (Fords Gin)
Mattman Joseph from Skullduggery (Kyrö Napue)
Alvin George (Loco) from Coley (Gin Mare)
Desmond Yatigammana from JungleBird (Fords Gin)
Kay (Khir Johari) from Virgin & Throne (Bombay Sapphire)
Roymark Arusab from The Pawn Room (Hendrick's)
John Buxton from Encore by The Vault (Death's Door)
Nik Syafiz from Locker & Loft (West Winds)
Alvin Au Yong from Birch (St. George)
Osmund Bernard from IKKI (Citadelle)
Joe Ngui from Omakase + Appreciate (Botanist)
Kazi Tanbir from Hyde at 53M (Citadelle)
Mitchell Raymond from 61 Monarchy (Botanist)
Jiffy Madredijo from Ril's Bangsar (Hendrick's)
Anand Pirinyuang from Shelley Yu's (West Winds)
Jovilane Maghanoy from Opium KL (Bombay Sapphire)
Kelvin Lee from Bonfire Restaurant & Bar (Gin Mare)
Erik Fiza from Suzie Wong (Gin Mare)
Ebony Hogg from Sticky Wicket (Death's Door)

Started in Singapore 5 years ago, East Imperial Gin Jubilee seeks to spread gin culture across Asia, with individual jubilees in Kuala Lumpur, Hong Kong, Phnom Penh, Singapore, and a new addition this year – Shanghai.
Wholly Spirits is the organiser for the Kuala Lumpur chapter of East Imperial Gin Jubilee.

---