Thirst Magazine Issue 1: Out Now!
---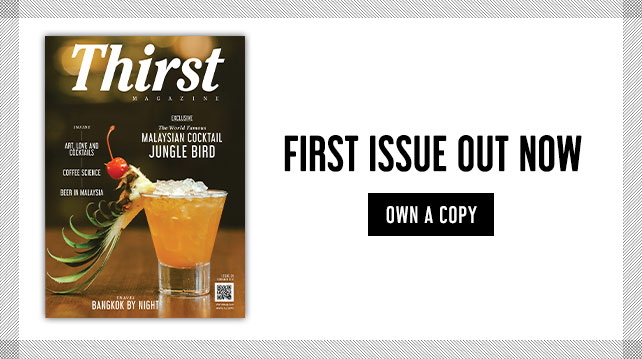 Our first issue is out and here are the content highlights:
Jungle Bird - The true origin and creator of the drink that put Malaysia on the map of classic cocktails.

Art, Love and Cocktails - Cocktail Professor is breaking through the traditional cocktail making trends by integrating their knowledge with the locals, wherever their consultancy work brings them.



History of Traditional and Modern Cocktails - A travel chart that shows the timeline of classic cocktails, with their recipes.

Gin or Vodka - Use interchangeably and compare them through recipes.

The Gin Book

Whisky or Whiskey - The difference between the two spellings and where to learn more about the dram by Matthew Fergusson-Stewart.
Beer in Malaysia - A brief history, styles of beers and what's available now in Malaysia.

Bar Highlights

Bartender's Handshake

How Wines Are Judged - Dr Stephen Hall tells us the process of wine judging.

Sweetness & Bitterness - Understanding how our palate works through coffee science.

Want to be a bartender? - Should you?
Bangkok - Drink unlicensed craft beers and a speakeasy bar among erotic services.

Books for Bartending - Good reads recommended by Jay Gray.

A Bartender's Memoir - Ben Ng putting the profession into perspective.
Thirst Magazine is available at RM10 a copy in MPH, Kinokuniya, Popular, Borders and any book stores in Klang Valley. You can also email us at editor@thirstmag.com and we'll post you one.
---