Thirst Magazine Issue No. 4 is out!
---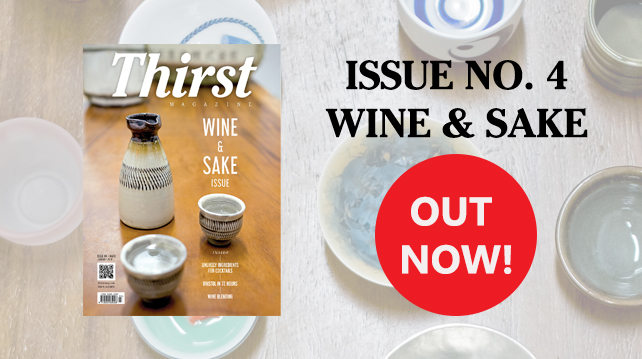 Inside Issue No. 4
13 Mezcal-Grilled Beef recipe by Mish Mash Penang
15 Trending
16 Books and a film
18 The art of wine blending by Anthony Walkenhorst of Kim Crawford
20 Best hospitality bar and the man behind it - CK Kho and Coley
24 The Rising Star – Jason Julian
28 In defence of screwcaps
30 All about sake – Read this and become the god/goddess of reading sake labels
34 Macha, are you ready for matcha? – Everything you need to know about the green tea powder
38 Unlikely ingredients for cocktails – Some of Kelvin Lee's quirky cocktail recipes
44 When is a wine not a wine?
47 Travel – 72 hours in Bristol, drink local craft beer, cocktail bars and where to stay
54 Destination – Bali
56 Legal – Intellectual Property
58 A sommelier's memoir – Why Malaysian Sommelier Edmund Liew left home to pursue his dream overseas
*Free Monin pineapple gold pin for every checkout, until stock last.
---