Costa Coffee comes to Malaysia's Shell Stations
---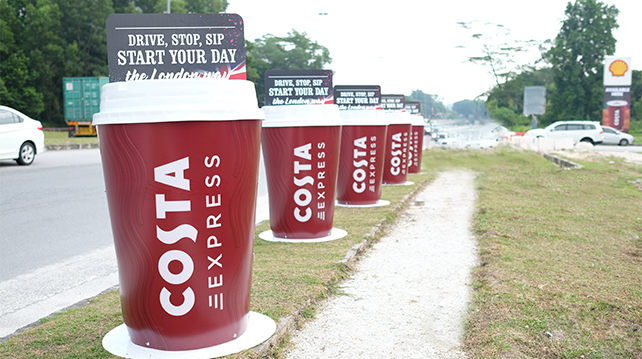 If you have lived in the UK before, you'll remember Costa Coffee that fuels students and working professionals alike with their roasted coffee.
The second largest coffeehouse has now partnered with Shell Malaysia to bring self-serve coffee machine to 200 Shell Select stores across the market by July 2018. Malaysia is one of the first market to introduce ice drinks through the machine.
Costa Coffee self-serve machine is designed by luxury Italian design house, Pininfarina, that also designed the classic Ferrari. Each machine costs approximately RM300,000 and boasts 200 recipe combinations, using signature blend Mocha Italia.
The sound from the machine speakers is recorded in a real cafe, to resemble the customer's experience as if they're actually entering a café and served by a barista.
How to use a Costa Coffee self-serve machine?
1. Select your drink.
2. Let the machine make your drink. (In the meantine, you can go pick up some pastries from Shell's deli2go in the store while waiting.)
3. Collect the printed receipt.
4. Pay at the cashier.
Watch video

---
Events & Promotions
---
---