La Marzocco Event Photos - 23.4.2012
---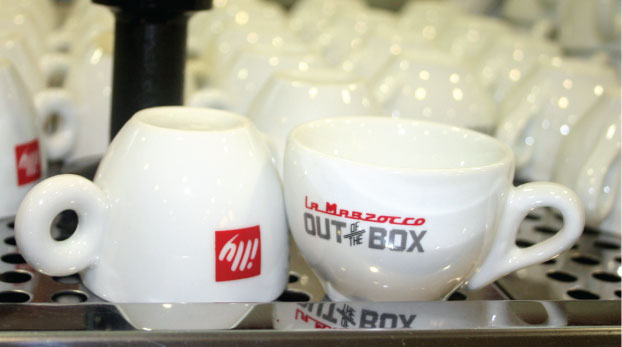 The first La Marzocco Out Of The Box event in Malaysia was a success!

Over 80 coffee enthusiasts including baristas, cafe owners, coffee trainers and related media attended. Classic Coffee & Beverage brought this event from Italy to Malaysia with a motto to give the local coffee enthusiasts a place to meet and share their experiences with each other. They brought together four latest La Marzocco espresso machines (GB5, GS3, Linea AV2 and Mistral) and let everyone in the event tried the machines themselves.
The opening speech was given by Mr Jacque Cosset, the Managing Director for Classic Coffee & Beverages, sharing his story about meeting La Marzocco team in Florence and witnessing passion from the people working for the brand.
Lorenzo Carboni, the Director of Sales for La Marzocco then talked about the history and the mission of the brand, also introduced their latest machines – Strada.
Two times Malaysia Barista Champion Cheryl Lee announced the start of Malaysia Barista Association.
Victor Leong gave a brief talk about beans in Malaysia.
Azlan Khalid from Whisk, shared his view about choosing an espresso machine before opening a cafe.
19 baristas participated in the Latte Art Jam and JH Yee from espressoLAB won with 17 votes, 6 votes difference from the second most voted latte art made by Leong Weng Wai from Coffee Ritual and the third was Azlan Khalid from Whisk.
For more images from the event, please visit photo album on Thirstmag's Facebook
here
.
---