Pulp Fiction
---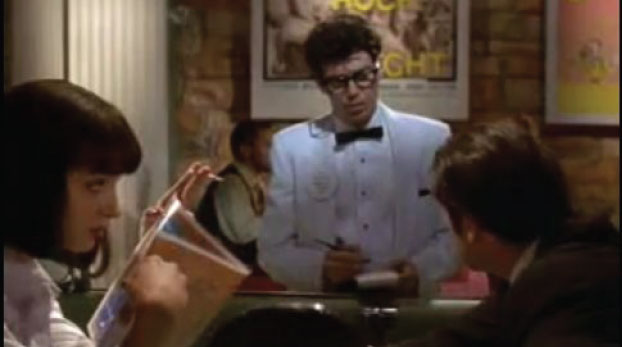 Thirst On Screen 2
The Film: Pulp Fiction (1994)

The Drink: Milkshake

The Scene: Gangster Vincent Vega (John Travolta) is entertaining his boss' wife, Mia Wallace (Uma Thurman) one evening. She wants to go to a 50's diner-style restaurant in LA, where the maitre'd is Richard Nixon and the tables are inside classic whale-tail 50's cars. Super kitsch and super cool.

Before heading to the bathroom to powder her nose, Mia orders a burger and a $5 milkshake, choosing between "Martin and Lewis" or "Amos and Andy" – she goes for the former (vanilla).

"That's a shake, that's milk and ice cream, that's $5?" questions Vincent.

"You don't put bourbon in or nothin'?"

Nope …but on tasting, he does declare: "I don't know if it was worth $5 but it's pretty f@£%ing good!"

How to Experience in KL: We haven't seen any restaurants round here where you can dine in a '50's Caddy (though come to think of it, wouldn't that be great at Sunway?), but for milkshakes, try The Milkshake Factory on Jalan P Ramlee, or save the $5 and knock up your own Martin & Lewis in the home blender.
---