Jeffri
---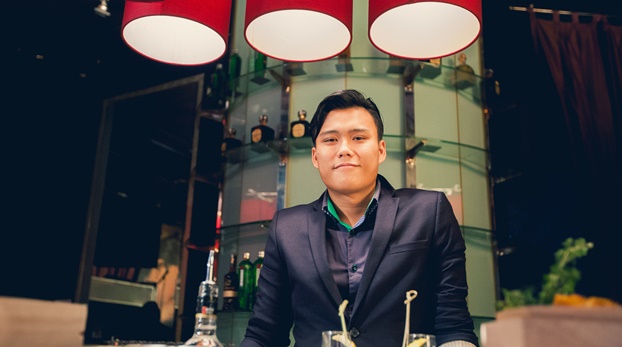 (Photographer: Cliff Choong)
Diageo World Class Malaysia 2014 Bartender
Nickname: Jeff
D.O.B.: 9th February 1987
Hometown: Born In Malacca, grew up in Klang
Something funny:
When I was a kid I never knew what animals were called. I referred to them by their character names in cartoons. When I saw a rat I called it Jerry. I even asked my mum why it was black in colour and not brown!
What kind of customers do you like?
I love customers who are polite, adventurous and most importantly, give honest feedback on your drinks. Being a bartender it's near impossible to please everyone's palate but yet it's not impossible to give them a good time and conversation. Negative comments give me the feedback. I need to study my guests' likes and dislikes thus broadening my knowledge in matching flavors to individuals.
Which part of your job do you enjoy the most?
Seeing satisfied, surprised or overwhelmed guest reactions when you serve up an awesome mix fitting to their taste.
What do you usually drink when you are not working? I don't drink much alcohol, but I do a lot of tasting and my perfect drink to have on non-working days would be a perfectly chilled glass of fresh milk. If it's alcoholic then a glass of Edmundo Dantes 15 Year Old Extra Añejo Rum (if I can get my hands on it) on the rocks; or a nice dry sake like Hakaisan Junmai Ginjo.


Career history

2013 - Current - The B.I.G Group - Beverage Operations Manager
2011-2013 - Ten Japanese Fine Dining - Assistant Manager/ Mixologist
2011 - TGI Fridays IOI Mall Bar - Manager/Restaurant Manager
2011 - TGI Fridays The Curve - Manager-In-Training
2008 - 2009 - TGI Fridays Sunway Pyramid Opening team - Bartender
2006 - 2007 & 2009 -2010 - TGI Fridays Subang Waiter - Bartender
World Class Recipes
First Challange
Mediterranean Spa
Ingredients:
Ketel One Vodka
citrus sorbet
Limoncello jelly
basil seeds infused with thyme
Sprite

Garnish:
thyme sprig
lemon zest
Methods:
Combine Vodka, citrus sorbet, Limoncello jelly
Top up with Sprite, stir gently
Garnish and serve
---