Struan Ralph
---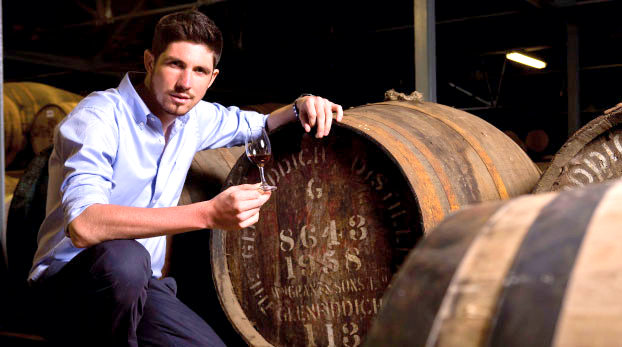 Interview with Struan Ralph

At age 31, Struan is the youngest brand ambassador for the internationally famous Scotch whisky brand – Glenfiddich, under William Grant & Sons. He is a Chemistry graduate but the closest thing he has done that resembles mixing in a lab would have been his bartending career.

How is it like being a brand ambassador?
Being a brand ambassador is an honour and a pleasure. The hard work and often long hours are more than compensated by the satisfaction of representing this fantastic family of Distillers.

Wasn't it like that when you were a bartender?
Bartending was certainly long hours and late nights but also late mornings which makes it manageable. Bartenders and drinks industry professionals all share a certain affinity which I think comes from their hard working nocturnal existence.

You were a Chemistry grad, what got you into the beverage industry?
When I graduated in Chemistry, I had already been bartending for 5 years. I looked at the jobs I could do with chemistry, they were all quite boring and compared to the jobs I could do with wines and spirits, they were more interesting – no brainer. Job in a lab doesn't get you to meet many people and I like to work with people. So I did a diploma in Wine and Spirits and then master in Marketing.

Why marketing?
Many distilleries are great in making whiskies but the challenge then is to sell them and in such a way that encapsulates every potential market around the world. I find marketing a good knowledge to have in this industry.

Where were you working before joining Glenfiddich?
I was working in several places. I worked in Knockdhu distillery in 2005 and then joined a friend in his cocktail catering company called Liquid Alchemy as an Operation Manager. We did projects like the Scottish Fashion Awards that took place in the Stirling Castle. Then I became the UK Ambassador for Inver House Distilleries Ltd.

How do you feel being the brand ambassador of the biggest single malt whisky seller in the world?
Very proud. Back home (at Speyside), there are many whisky distilleries (amended) but the fact that the Glenfiddich distillery is still family owned, we still have people who have been making the same whisky for the past 50 years, which I think makes a big difference in terms of quality, experience and maintaining the consistency of the product.

And this job is very rewarding and challenging because I get to speak to different people about whisky. Some who know nothing about whisky and you can give them an introduction like you are the talisman; and some who ask you questions they already know the answers to, just to test you. A good example would be one of the biggest Glenfiddich collector country – Sweden, where we have a very loyal brand following. I found the consumers there to be so unbelievably knowledgeable on single malts it was a pleasure to work with them.

Actually a Scandanavian friend of mine has over 500 different bottles of Glenfiddich in his collection dated back to 1963 and beyond. These are true connoisseurs who expect that I know what I am talking about when it comes to the brand.

In the region, which is the biggest market for Glenfiddich?
It is a premium market in Taiwan, they mostly buy products at the top end whereas Malaysia represents a relatively large and growing volume .Generally most of the sales here are 12 years. In Penang and KL though, the sales for the 15YO and 18YO are more compared to other states.

Why are the two expressions more popular in Penang and KL?
I think that the consumers in Penang and KL are more educated about their drinks. I see more people drinking whisky socially here than in Scotland, where beer, white spirits and wines are more popular in bars and clubs. That's why we export our whiskies!

Which expressions do you think are better for entry level whisky drinkers?
I think Glenfiddich 15 year old offers a novice consumer a sweet, accessible whisky which has none of the big smoke or alcohol burn that often puts newcomers off. The 15YO has recently won a double gold at the IWSC (International Wine & Spirit Competition), reflecting its status as one of the world's best whiskies and one which should appeal to everyone.

Which of the Glenfiddich do you like most?
The 15YO. If you have a bottle of this at home, you can generally look after everybody. For example if I pour one for my mum who is a wine drinker, I'd add some water and she can taste the floral note which you would expect from Speyside, a hint of spiceness from the sherry cask and honey flavour. Then you can give it to the hard core smoky whisky drinker and they still think that there is enough power there. It can basically encapsulate everything you are looking for from a Speyside whisky.

Have you created any cocktail using Glenfiddich?
Yes, I would only ever use the 12 YO as a base though. The real art of making cocktails is to choose a base spirit which flavours you like, take them in a direction which brings out those flavours. With Glenfiddich 12YO you can create some really beautiful aromatic drinks like a Bobby Burns, utilizing the fresh pear and oak flavours of Glenfiddich 12YO . I think when a whisky gets older there is already enough flavour there to be consumed on its own because the art of creating flavours within that glass has already been achieved by the craftsmen at the distillery.

What is your vision for your role in William Grant & Sons?
I hope to introduce many more people to the wonders of single malt through education and inspiration. Like any Speysider, I am proud of the particular elixir that flows from the stills of my native region and hope to share this passion with many new people in many new places.


---