100,000 Scovilles - Naga Chilli Vodka (70cl, 40%)
---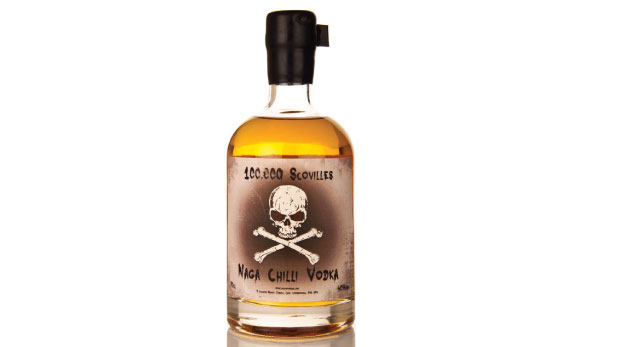 Spirit type: Vodka

Origin: Kent, United Kingdom

Company: Master of Malt

Year established: 1985

Product:

Chilli is always part of our Asian diet, every meal we have, there is always at least one type of chillies offered to go with it. What about our drinks? No quite so.

Here is a bottle of vodka that sure will explode your taste buds. 100,000 Scovilles, crowned the spiciest vodka in the world, is infused with Naga Jolokia chillies that produces deathly fire into your mouth.


Scoville is the name of a scale that measures the spicy heat of a chili pepper. The number of Scoville heat unit indicates the amount of spiciness (called Capsaicin, a chemical compound in chilli peppers that causes the burning sensation). Naga Jolokia is rated at over one million Scoville units, hence the name denoting the amount of spicy heat unit contained in the bottle.

Before considering buying this bottle though, there are some warnings provided by the producer1. Here are their notes:

By purchasing this bottle, you agree that:

1) I have been warned and fully understand that this product contains extreme heat and should be used and handled responsibly.
2) I use this product entirely at my own risk and I understand the potential danger if used or handled irresponsibly. If I give this product as a gift I will make the recipient aware of the potential danger if used or handled irresponsibly.
3) I accept that the retailer and manufacturer of this product will, under no circumstances, be responsible for, or liable for, any claims of injury or damage arising from the use or misuse of this product and by purchasing this product, whether for myself or as a gift, I acknowledge and agree to this fact without question.
4) I am not inebriated or of unsound mind and am fully able to make a rational decision to purchase this product.

Add a bit of 100,000 Scovilles into your prawn mee next time.

1. The producer of the product is Master of Malt.
Tasting notes: To not risk losing our taster, we will let you decide the notes yourself.
Price:
£65.90 or RM327 or SGD130 (including shipping to Malaysia or Singapore)

Producer:
Master of Malt - 8a London Road, Tunbridge Wells, Kent, TN1 1DA, United Kingdom. Tel: +44 800 5200 474
---