Glenlivet Founderís Reserve, reliving the founderís vision
---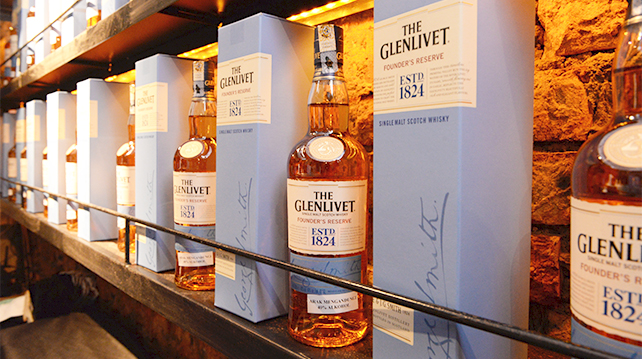 The Glenlivet Guardians were once again gathered by the summons of Lionel Lau, the Brand Ambassador for The Glenlivet in Malaysia. After initially being held back at the port a month ago, the new Founder's Reserve finally made its appearance in November at Leonardo's, Bangkung Row, Bangsar.

Lionel Lau, the brand ambassador for The Glenlivet Malaysia.

The Glenlivet Founder's Reserve is a tribute to the original vision for the whisky by its founder, George Smith, when he founded the distillery in 1824. He wanted to make sweet, smooth, fruity and easy drinking whisky, and that vision continues on today, especially brought out in this new non-aged statement whisky.
The Founder's Reserve is compared to the 12 year old, which has been discontinued in many other markets. However, Malaysia is among the few lucky markets that will still retain supply of the 12 year old. "Compared to the 12, there is a higher portion of first fill ex-bourbon barrel in the Founder's Reserve." said Darren Hosie, the International Brand Ambassador for Chivas Brothers who graced the launch.
"It is like taking a big dollop of cream and dropping it into the whisky, making it much sweeter, smoother in flavour, taste and texture. Easy is very positive, you want people to enjoy it and if they don't, there is no point making the whisky," says Darren.

Darren Hosie, International Brand Ambassador for Chivas Brothers graced the launch in Bangsar.
The Founder's Reserve is a marriage of whiskies fully matured in first fill ex-bourbon casks and traditional oak casks. A bourbon cask is normally used up to 3 times over a life span of 50 to 60 years but in the Founder's Reserve, only the first filled casks are used.
Debates then went on over the market perception of non-aged whisky and whether age statement really matters. Darren shared his personal opinion on the matter, "Non-aged statement (NAS) is not new in Scotch whisky, 25 years ago it was rare to see aged whisky particularly in single malt. In the whisky industry, aged whisky is quite new. By creating aged whiskies, we are actually offering more expressions to the consumers. As a whisky drinker, I never bought by age but by flavour. Age gives you guide of age but it doesn't mean a 15YO is going to taste better than a 12YO or vice versa."
The Founder's Reserve's price point is slightly above the 12YO and the reason given by Darren is because the whisky is produced only from first filled sherry and bourbon casks. His advice on choosing a whisky is, try the whisky first and if you like it then you pay for it, if you don't, then it doesn't matter what other people say or how much it is.
---