Limited Edition Blendersí Batch from Johnnie Walker
---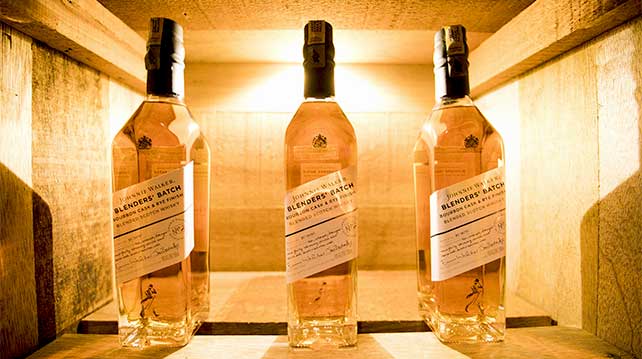 Emerging from the brain of Master Blender Jim Beveridge is the latest Johnnie Walker innovation: the Blenders' Batch Bourbon Cask & Rye Finish.
Inspired by Beveridge's time spent blending bourbon and rye in Kentucky in the 90s, the Blenders' Batch No. 2 is a fusion of the best of American and Scottish distilling that brings forward new whiskies for the new generation of whisky drinkers to enjoy.
Flavours are drawn from over 200 samples sourced from five different distilleries (including Dufftown and Port Dundas), aged in first-fill whisky bourbon casks, and then finished for up to six months in former rye casks. The overall aim of the experiment was to determine the combination of flavours that would happen after the influence of the sweet flavours of bourbon and rye whiskies are brought together with the depth and subtlety of Scotch whiskies.
The end result is a blend that is rich and warming, with a strong honeyed sweetness. It is quite enjoyable on the rocks, and also a fabulous addition to cocktails.
This is a limited edition release, and as such each bottle is individually numbered. 600 bottles are allocated to Malaysia and are available from April onwards. Find them in BIG supermarkets and select AEON outlets, starting at RM280 (500ml at 40% ABV). Plus, Blenders' Batch No 2 cocktails can be found nationwide at Mish Mash, The Vault, Forking Cork, Urban & Co, Culture Club, Mulligan's Signature, Pawn Room, The Attic, Berlin, Chaze, Suzie Wong, Locker & Loft and O'Sesame for a limited time only.
For more information, check out the Johnnie Walker Malaysia Facebook page.

---