Old Pulteney
---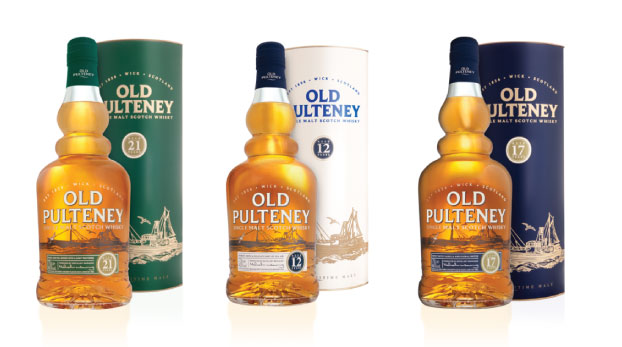 Spirit type: Whisky
Origin: Scotland (Wick)
Company: Inver House Distillers Limited
Year established: 1826

Background: James Henderson was an accomplished distillery with 30 years of experience before founding Pulteney Distillery in 1826. His previous distillery at Sibster (about 5 kilometres away from Pulteney Distillery) was closed down after the passing of the Illicit Distillation (Scotland) Act in 1822.

The time while the distillery was founded, it was called the "herring boom" due to its peak in the fishing of herring in Wick, Scotland.

Wick town, where the distillery stands is located at the most northerly side of British. At that time whilst the distillery was built, the road linked to the town was not yet established. The distillery very much depended on seafarer for the supply of its barley and shipping out of their malt whisky, which gave a name for Wick as a town for shipping out gold (whisky) and silver (herring) barrels.

The distillery changed a few hands since 1920. It was sold to James Watson & Co Ltd in Dundee, which was subsequently acquired by John Dewar & Sons Ltd (Dewar's whisky brand created by John Dewar in 1846). Later on in 1925, John Dewar & Sons Ltd joined Distillers Company Limited and Pulteney Distillery was passed into the hands of the latter.

Pulteney Distillery was closed down in 1930 and only resumed its production in 1951 under a new ownership of Robert Cumming who also acquired Balblair Distillery (A Scotch whisky distillery founded in 1790 in Edderton, Ross-shire, Scotland which was later purchased by Inver House Distillers Limited in 1996).

Pulteney Distillery was sold to Hiram Walker & Sons Ltd in 1955 (A distillery based in Ontario, Canada that produces Canadian Club whisky, which now has become part of Beam Global portfolio). In 1995, Inver House Distillers bought over Pulteney Distillery which ownership of the distillery still remains today.

Sir William Pulteney
The distillery was named after Sir William Pulteney (October 1729 – 30 May 1805), whose name also used for the Pulteney town. Sir William Pulteney birth name was called William Johnstone. In 1760, he married Frances Pulteney, the first cousin of the 1st Earl of Bath, Wiliam Pulteney (Yes, same name as William). Frances inherited the Earl of Bath's wealth after he passed away in 1764 and also the Earl's brother's wealth on his death oin 1767. After that, Johnstone changed his name to William Pulteney.

In the 1970s, William Pulteney became the governor of the British Fisheries Society. He had a vision to turn Wick into a modern harbour capable of docking thousands of boats. Under the appointment by William Pulteney, The British Fisheries Society commissioned the famous Scottish civil engineer – Thomas Telford in building the harbour in Wick town. As a result of Telford's work, the mill lade (a term for channel of stream used in Scotland) which carries water from Loch Hempriggs (a lake 4.3 kilometres away from Wick) was later on used to deliver water to Pulteney Distillery.
Tasting notes:
12YO single malt bourbon barrel
Visual: Bright golden straw colour
Aroma: A soft and friendly aroma with hints of sweet butterscotch for a start. Take a few sip and it begins to reveal nuts and seaweed
Taste: The whisky reveals flavours of apples and pears for starters. Take a few sip and experience pulsating sensation of ginger
Comment: A decent drink but lacks dimension
After taste: Light and sweet with light spicy notes

17 YO single malt bourbon barrel
Visual: Bright honey'ish' gold
Aroma: Slightly dry and pungent, the aroma is filled with lemon oils, seaweed and a light touch of smoke
Taste: Easy and inviting characters. The whisky reveals flavours of autumn fruits, botanicals and dried herbs
After Taste: Leaves a gentle fruit like sweetness

Local distributor(s):
Malaysia
Fortier Wines & Spirits
---