The Glenlivet Cipher
---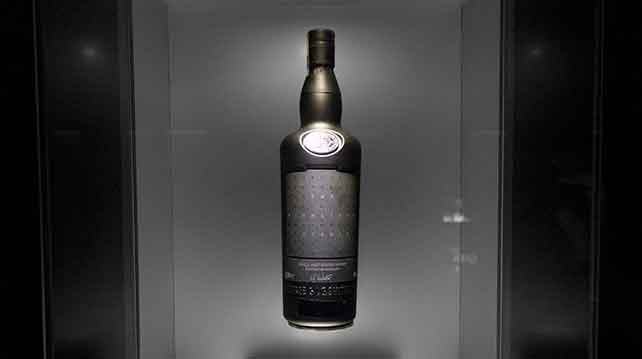 "The most mysterious whisky in the world." said the Ambassador for The Glenlivet Malaysia, Lionel Lau.
The only available information on the label is the name of the bottle, Alan Winchester's signature and that it contains 700ml of liquid. There is nothing about the contents that can be found on the bottle. Unless, of course, you open it and taste it.
Just like The Glenlivet Alpha in 2015 with only 3,500 bottles produced, no information on the taste, aroma or colour was provided to the buyers. The information was only made available a month after the release of the bottle.

Lionel addressing the guests
The Glenlivet Cipher challenges whisky enthusiasts to use their senses to decode the flavour profile of this mysterious single malt. With a dram in hand, you can visit the expression's microsite (https://cipher.theglenlivet.com) that allows you to select 6 aromas for the nose and 6 flavours for the palate to see how close you have come to cracking The Glenlivet Cipher's taste profile.
In the launch event, Pernod Ricard Malaysia had guests go through a sensory game by letting the guests smell 3 different aroma profiles and 1 taste on the palate while blindfolded. These aromas and flavour are some of the major elements in the limited edition whisky.
The Glenlivet Cipher is 48% ABV and non-chill filtered. Any more information about the expression will have to wait for the release on their website.
What we can tell you however, is that Malaysia gets 110 bottles out of 33,000 produced. You can buy it at RM780 from Pernod Ricard Malaysia at maximum 2 bottles per person. Order at theguardians@millennium.net.my
Note: The Glenlivet Cipher was launched in Skulldugery on 20 September 2016 with Lead Guardians and media.
"Designated Party Starter" in Skulldugery, Mattman Joseph created some cocktail using the Glenlivet which will be available in the outlet and will be available for a limited period of time.
Glen Meets Rob
Rob Roy that uses Glenlivet 15 for the Scotch part. This classic twist also includes Antica Formula vermouth, Maraschino Cherry Liqueur and a few dashes of Angostura bitters and orange bitters. RM55++
Josie's Juicy Julep
Instead of bourbon, this juicy classic uses The Glenlivet 12YO that carries smooth summer fruits and floral notes. Josie's refers to the well where water used to produce Glenlivet streams from, used here for the namesake. RM45++
Livet-it-up
We totally missed this drink but we know that it is a citrusy tall drink that uses the Glenlivet 12YO, lemon juice, homemade ginger syrup and soda. Garnished with a spicy beef jerky. You can order it at the bar at RM35++

---