Chocolate. A treat, a dessert, a snack, a hormonal cure (ahem) and a luxury. It's the delicious result of harvesting cacao beans (or cocoa beans) that the Mayans from Central America discovered over 4,000 years ago. Back then, it didn't taste as good as it does now; the Mayans made chocolate by crushing the beans and mixing it with chili peppers, vanilla and water. The people believed it was the 'food of the gods' – the Latin name for the cacao tree, Theobroma Cacao literally means that.
Cacao beans were so revered that it was often consumed during religious ceremonies and marriages. Then chocolate underwent a change of value when the Aztecs took over the Mayans and used it as currency; a hundred cacao beans could get you a whole turkey hen back then. It is said that where the Mayans only allowed its royalty to consume the drink, the Aztecs' elite (priests, decorated soldiers and honoured merchants) were given the sacred drink. Eventually, chocolate was reportedly brought back to Spain by Spanish explorer Hernando Cortes.
Fast forward to today, chocolate still retains its 'magical' healing properties and is considered a treat in many countries. Companies have managed to craft their own chocolate recipes and each produces a distinct taste of the delicacy like French premium chocolate manufacturer Valrhona which has secured itself as a household name thanks to its chocolate that's favoured by chefs and pastry experts all over the world.
In a recent workshop held at the Academy of Pastry Arts Malaysia organised by Classic Fine Foods, Valrhona Chef Brice Konan Ferrand introduced us to the brand's range of best-selling chocolate. Valrhona offers pre-made flavoured chocolates that can easily be melted and mixed into pastries or drinks. He also taught us how to craft delicious ice cream using Valrhona's chocolate.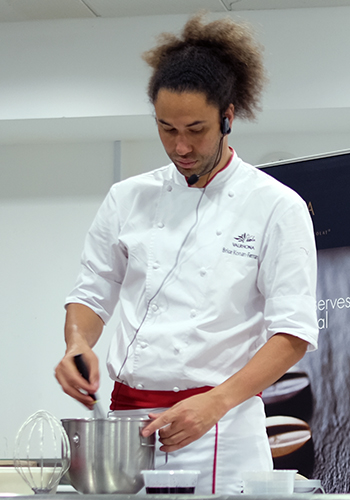 Chef Brice Konan Ferrand [Photo: Kim Choong]
Of course, what we want to know is how can we make alcoholic ice cream. Chef Brice recommends Valrhona's Dulcey Blond chocolate that was launched in 2012. Dulcey was created to be paired with indulgent notes like caramel, coffee and hazelnut as well as yellow fruits like mangos, bananas and apricots, making it a perfect match with whisky.
Although Chef Brice doesn't have a specific alcoholic ice cream recipe for us to try, it wouldn't hurt to experiment with a pure Dulcey ice cream recipe first.
Dulcey Ice Cream
Ingredients:
500g whole milk
120g Dulce 32% Chocolate
100g granulated sugar
80g egg yolk (about 3)
1 tablespoon milk powder (optional)
1 tablespoon honey (Acacia recommended)
Get the full recipe here.