Chocolate is an irresistible indulgence, especially when alcohol is added. "Theobroma", meaning "food of the gods", is a reference that is lovingly used to refer to chocolate. It's undoubtedly apt as how many would deny the offer of chocolate?
We were invited to a workshop by Martell, thinking it another pairing session but we ended up making a batch of cognac infused chocolate truffles using Malaysian cacao. Led by Chocolatier Ning Geng Ong and Martell Brand Ambassador Jean-Baptiste Gourvil, we learned how we could make chocolate at home with some golden goodness, Malaysian cacao and its similarity with the ethos observed by cognac brand.
Making chocolate at home
It is quite simple, you just need some basic tools – a container, spoon, scale or measuring cup and a chiller; but to make delectable chocolates, the key is in the ingredients. Good quality cream helps but the cacao ("cacao" is the same as "cocoa", the former is Spanish and the latter is English) determines the grade of your finished product, and its price.
Before guiding us on how to make chocolate, Ong told us what got him to start sourcing cacao locally in Malaysia. The chocolatier likes to make things with fresh produce in his kitchen (fermenting fruits, pickled vegetables, etc). However, when he wanted to make chocolate and thought of getting some local cacao because Malaysia has the perfect climate for growing the fruit, he found, to his surprise, that there was no recognised brand for quality cacao in the country. That got him started to make his own chocolate from the fruit itself.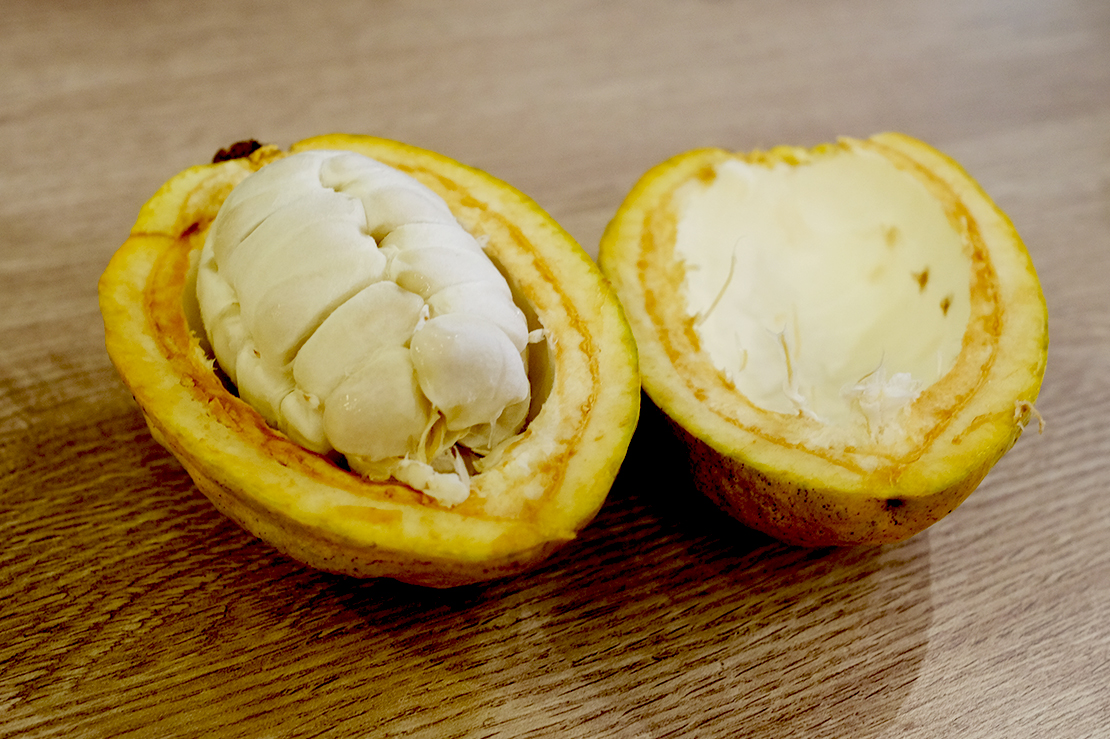 Fresh cocao
Malaysian chocolate
Chocolate Concierge is now the main driver of a co-op that sources cacao from 150 orang asli families, provides education and knowledge to grow better quality plants and improve yield. To date, this co-op has gathered over 1500 varieties of cacao with different characters and tastes. This initiative contributes a reliable income for the orang asli families which eventually provides them with better quality of life, "We need to spread the word about local cacao, these families need your help," emphasised Ong.
The chocolates introduced in the session were according to the cacaos' flavour intensity. Temuan has the least intense flavour and this batch is harvested for the first time; Semai is fruity and balanced in acidity and Batang Kali is the most intense with high minerality as it is an old plant with long roots that reach deeper into the soil.
Before proceeding to make the chocolates, Martell Brand Ambassador, Jean-Baptiste Gourvil introduced three Martell Cognacs to choose from for the exercise.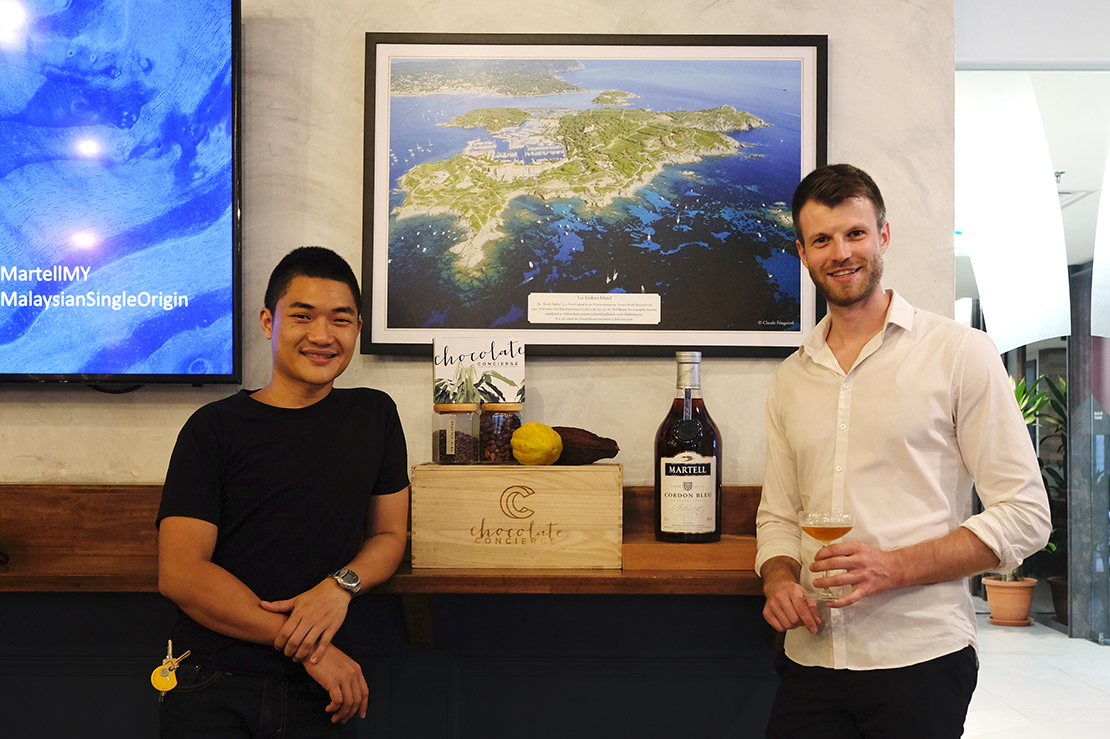 Sharing similar ethos - Ning Geng Ong (left) of Chocolate Concierge and Jean-Baptiste Gourvil of Martell.
Martell Cognacs for the chocolate making
Martell uses grapes harvested at the end of summer in September when the sugar level in the fruits is at its peak, which benefits the fermentation.
Martell VSOP Red Barrel
After removing impurities through double distilling, the liquid is then put in fine grain oak barrels, lending its coppery red tone to the Martell VSOP Red Barrel, a blend between two and eight years old cognac. This is the signature of Martell style cognac that is described as light, fruity, and smooth.
Martell Cordon Bleu
This is Martell's best-known blend. Aged for more than 10 years, the memorable spirit has the candied fruits richness, hint of spice and fragrant oakiness from the wood. Created by Edouard Martell over 100 years ago in 1912, the label has made its mark by being served on Queen Mary II in 1936, making its debut on Concorde in 1977 and the Orient Express in 1986.
Martell XO
The most intense in flavour among the three expressions offered at the session. The mahogany colour liquid has a rich fig aroma, pink pepper spiciness, sandalwood and long robust finish. It is said to be a full expression of the power and finesse of eaux-de-vie from Grande Champagne.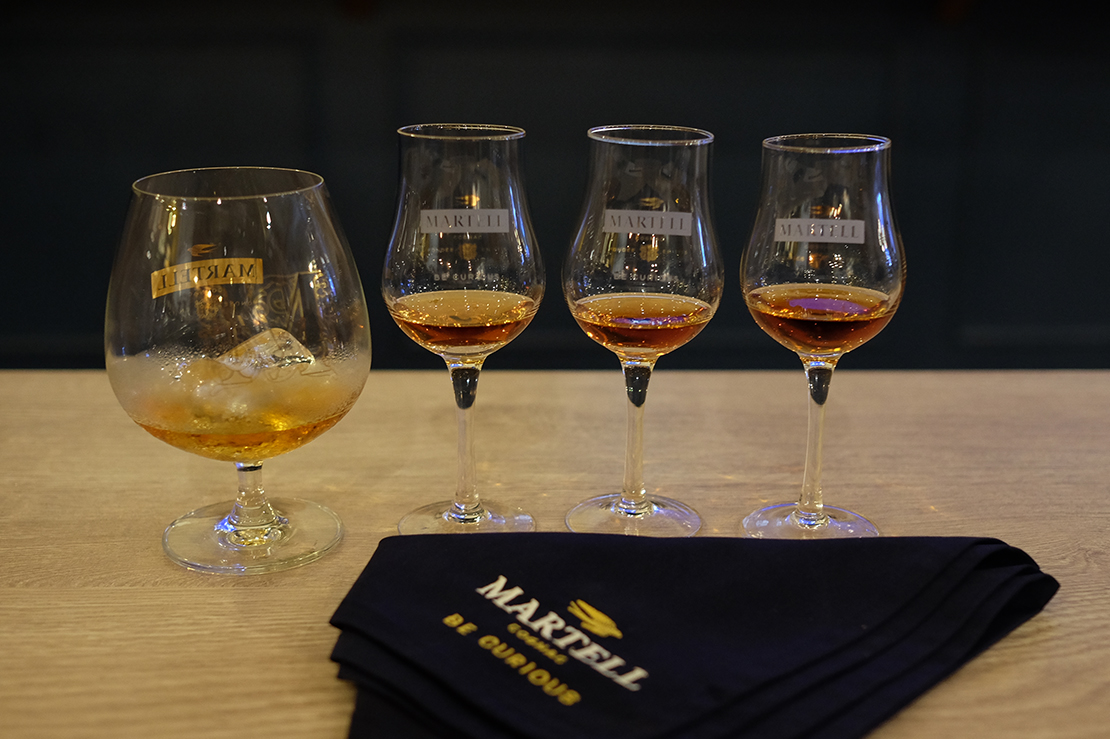 The three expressions in the workshop - From left: First two are the Martell VSOP Red Barrel, Martell Cordon Bleu and Martell XO.
----
The difference between brandy and cognac
Brandy can be made from any fruits, but to be qualified as Cognac, it must be made with these three elements:
The base ingredient must be grapes sourced within the Cognac region
The fermented grape juice (wine) must be distilled twice
The spirit must be aged for at least 2 years
---
The recipe
To make balanced chocolate truffles with the Chocolate Concierge chocolate, the recipe given was 220g melted chocolate, 40g cream and 40g cognac. The last 2 ingredients can vary as long as they are within the ratio. We chose to change the ratio to 30g cream and 50g Martell Cordon Bleu to bring out the candied fruit character and woodiness while complementing the acidity and funkiness from the chocolate made using Semai Cacao, which was grown in the high altitude of 450m.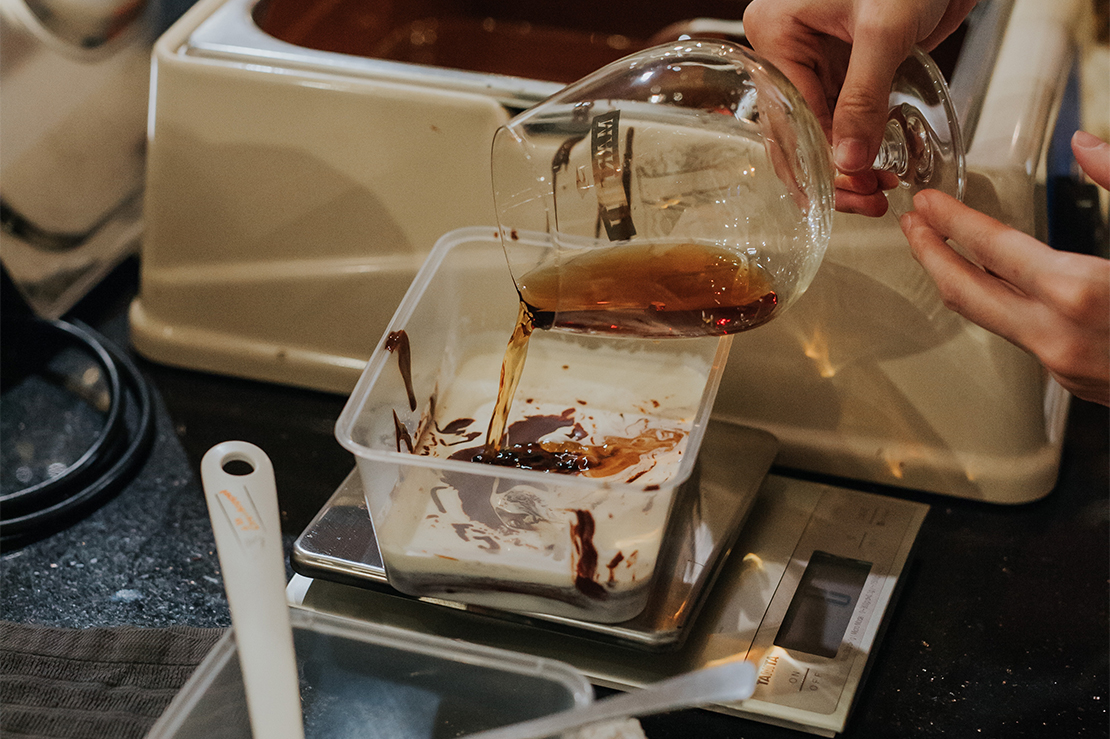 Adding alcohol into the chocolate mix.
----
Terroir
Cacao is a fruit where its flavours are affected by the soil, weather and the farmer. All these three elements are combined and described as "terroir" in French, meaning "treasure in the ground". For example, cacao is grown among other plants, so if it is near a fruit tree, say durian, it could pick up durian characters. Similarly, Martell uses Ugni Blanc sourced around the cognac region, particularly grapes grown in silica-clay soils known to produce the signature floral aromas that contribute towards the brand's fruity style of cognac.
----
When asked how this partnership came about, Gourvil elaborated that both Chocolate Concierge and Martell share many similar qualities and ethos. First, both brands cultivate a passion for producing good quality artisanal products using local produce. Second, it's about engagement with consumers and third, education.
Although as an alcohol brand, they're unable to be seen to be associated with the cacao co-op, he hoped that through working with people like Ong, Martell could still contribute towards helping local products shine outside of the country.
The workshop will be open to the public end of September. Stay updated on our event listing section for future activities.
- T -