It's that time of the year again when we gather with our family, watch the moon, eat mooncakes and sip tea. This time, it is especially precious as we go through a major pandemic affecting the world in the past few months (and probably more to come).
The Mid-Autumn Festival can't be short of delicious mooncakes and their beautiful packaging. In this tea pairing article, we want to thank Concorde, EQ, Four Seasons Kuala Lumpur, Hilton Kuala Lumpur, Mandarin Oriental, Pavilion Hotel and Pullman KLCC for sending their mooncakes for us to complete this tasting.
The traditional baked skin mooncakes are the staples, but we are also seeing creative recipes inspired by modern desserts and pastries in the snowskin category. One that gets the most hype is the Musang King mooncake and we will tell you which are the best.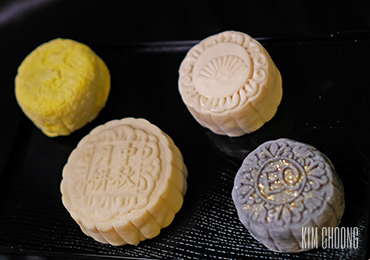 Musang in mooncakes (from left) Four Seasons KL, Concorde KL, Mandarin Oriental KL and EQ
Tea is frequently associated with mooncakes, and usually Oolong and Pu Er are served with the traditional types. This time we are jumping out of the box by pairing the mooncakes we have with berry tea, smoked tea, rice tea and green tea to see how they fare.
Lapsang Souchong
- If you also love whisky
A smokey black tea that has a unique pinewood fire flavour. This tea went particularly well with Pullman KLCC's Bamboo Charcoal Paste with Macadamia Nut and Raisin, as the smoke from the tea complemented the charcoal and nuttiness from the mooncake resulting in a flavour combination of its own.
Pullman KLCC's Red Restaurant mooncakes by Chef Fong Tek Fei (RM25 – RM42) are mostly recipes derived from popular desserts and focus on flavour combinations such as Matcha Green Tea with Red Bean, Red Velvet and Cheese, and Coffee an Oreo. View flyer here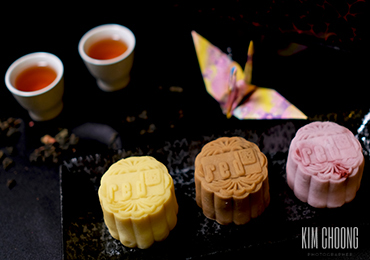 Oolong Rose Tea
- Elegant and floral, an all-time favourite
The Da Hong Pao variety from Wuyi Mountains of Fujian is used in this pairing. This fine tea is fragrant on the nose and retains its sweetness even after the third steeping. This tea goes well with practically any classic mooncake, be it the white lotus, yam lotus, pandan lotus and red bean paste, with or without the yolk.
Pavilion Hotel Kuala Lumpur Managed by Banyan Tree's collection of traditional baked mooncakes (RM30 – RM33) featuring all the classics have well baked pastry and good ratio of yolk and paste. The only two mooncakes that come without yolk are the Red Bean and White Lotus Paste. View Order Form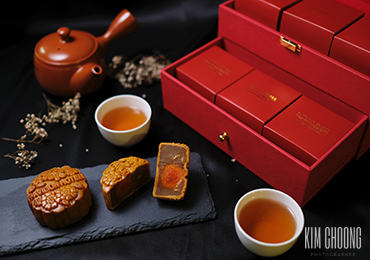 Pu Er
- Green and earthy, for slow sipping
In this tasting, we used the traditional Pu Er which has a greenish and earthy note with a mild bitterness. The traditional red bean paste mooncake with a dry sweetness paired well with the subtle and light Pu Er tea. The classic Assorted Fruit Nuts by Concorde is a good match with this too, so is the Four Seasons Pu Er Tea Paste with Tangerine Skin.
Four Seasons Kuala Lumpur's mooncakes (RM38 – RM55) created by the team led by Chef Jimmy Wong include the traditional baked and snow skin type. The Specialty Tea Mooncakes pastes are infused with the taste of Yun House's signature tea blend wrapped in traditional baked pastry. Their snow skin varieties which include Avocado and Egg Custard and Bird's Nest with Almond Cream are adventurous tries.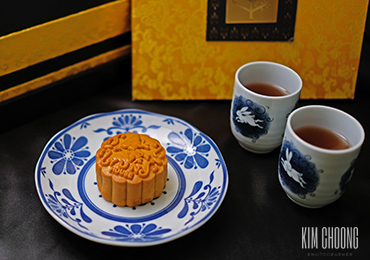 Black Tea
- Musty and aged, long lasting taste
Chinese black tea is also called "red tea" because of the red tinge of the brew. Premium black tea can be aged for many years with Pu Er as the most famous variety. Normally strong with a bittersweet finish, this tea suits almost all types of traditional baked mooncakes.
The traditional baked mooncakes by Chynna of Hilton Kuala Lumpur (RM35-RM38), particularly the Pandan Lotus with Single Yolk went well with this tea. There are also White Lotus, Lotus, Red Bean and Five Nuts. Chynna's special this year is the Bulgarian Blush with custard cream cheese, Bulgarian Rose petal jam and pine nuts, which can be tasted at their Mooncake High-Tea (18 July – 4 October 2020) at RM236 nett for 2 persons. The afternoon tea set is paired with Natural Rosehip with Hibiscus.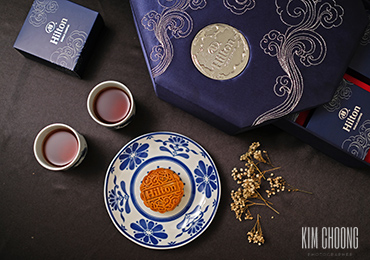 Their Heavenly Gold musang king durian mooncake is the best for texture and flavour among all that we tasted. The pastry's thickness of their snowskin is by far the most consistent and balanced in terms of ratio to the paste.
Brown Rice Tea/Genmaicha
- Toasty and comforting
Either boiled with just the roasted brown rice (Korean and Vietnamese style) or the Japanese style which is mixed with green tea, the roasty and nutty aroma from this tea is warm and comforting. This tea complements mooncakes with creamy pastes like the Yam Lotus Single Yolk (Pavilion) and Salted Egg Custard Paste (Mandarin Oriental).
Gold is in Mandarin Oriental's range of luxurious mooncakes (RM33 – RM45). Their Traditional Lotus Paste with Single Yolk is sprayed with gold and their Malaysian single origin dark chocolate contains gold leaf. New are three chocolate mooncakes: dark chocolate, milk chocolate and almond praline with strawberry, for those who want an alternative to the traditional skin and paste types.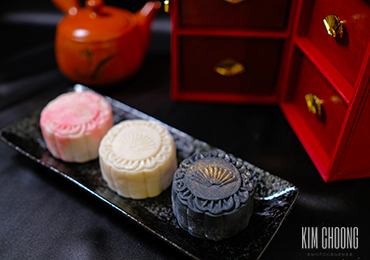 Lemon Tea (Hot/Cold)
- Balanced sweetness and enhanced citrus
Adding lemon juice and sugar/honey to any tea makes a lemon tea, with the juice balancing out sweetness in a dessert and enhancing citrus flavours. We think it went well with the Pullman KLCC's Red Velvet and Cheese, and EQ's Yuzu Pandan with Pumpkin Seeds. The yuzu stands out even more in the latter when having it with the lemon tea.
EQ's mooncakes by Chef Tan Tzaan Ling (RM32 – RM48) generally has thicker pastry. They include the traditional types (and double yolks!) that come in two sizes, and the snow skin varieties like the Rose Lychee, Musang King Durian and White Lotus with Dried Fruit are passable.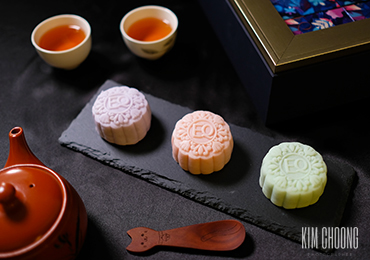 Green Tea
- Roasty and umami
Green tea comes in loose leaf, tea bag and powder form. We tried the powdered tea made from mulberry tea leaves. Green tea powder gives a mild roasty taste and a hint of umami, which countered the sweetness and oily texture of Concorde's Japanese Red Bean paste mooncake.
Concorde Kuala Lumpur's most distinctive mooncake is their Snowskin with Musang King (4 pieces at RM168 nett) that uses fresh durian for its paste, with their wider than the usual size making them the most valuable musang king mooncake compared to other hotels. Their Mooncake Sparkles come with a 9-inch Glass Light Globe and four mooncakes at RM80 nett.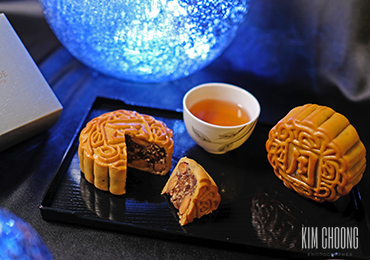 Cherry/Berry tea
- Tart and rich in tannin
Cherry and berry teas with their high acidity serve as great palate cleansers for mooncakes with thick pastes and high level of sweetness. This type of tea did not go well with traditional mooncakes with bean paste and yolk. Unless a mooncake is so unpalatable, this tea type has no place for good mooncakes.
- T -