Chynna, Hilton Kuala Lumpur
This year, Hilton KL worked with Malaysian designer Khoon Hooi on a very special range of mooncake boxes. They come in two different colours, both lined in red velvet and made with intricate brocade fabric used in Khoon Hooi's fall collection. The boxes come along with 10 flavours of the hotel's mooncakes, including a new one made out of dragon fruit and pineapple called Dragon Bloom and a RM200 dining voucher at Chynna Restaurant.
The Khoon Hooi Midnight Bloom box is RM198 while the Blossom Series box is RM178. The mooncakes are priced from RM35 for the traditional baked and up to RM56 for Snow Skin with Pure Premium Musang King Durian. All are available at Hilton KL's lobby, Pavilion KL, Mid Valley Megamall, One Utama Shopping Centre and Avenue K from now until 24th September. Visit www.takehome.hiltonkl.com or call +603 2264 2262 to place your orders.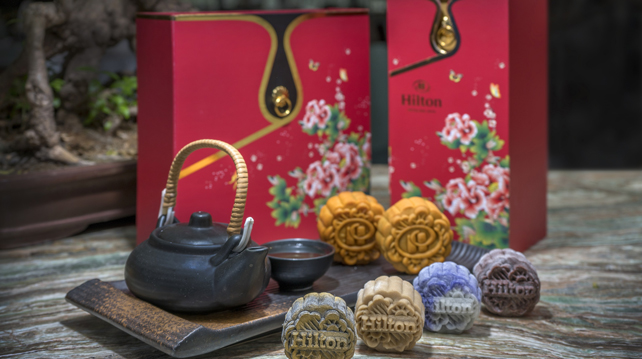 Toh Yuen, Hilton Petaling Jaya
Hilton PJ's offerings this year include the traditional baked mooncake flavours as well as the snow skin range with new flavours like Purple Sweet Potato, Tiramisu and the all-time favourites Chocolate Pistachio Indulgence and Golden Bamboo with Black Sesame Paste. The mooncakes range from RM28 nett per piece for traditional bake to RM32 nett per piece for the signature flavours. Premium boxes are priced at RM135 nett (for four flavours) and standard boxes are priced at RM110 nett (for four flavours).
The mooncakes are available for purchase at Toh Yuen Restaurant at Hilton Petaling Jaya, One Utama Shopping Mall, and Sunway Velocity Mall from now until 24th September 2018. Call +603 7955 9122 to place your orders.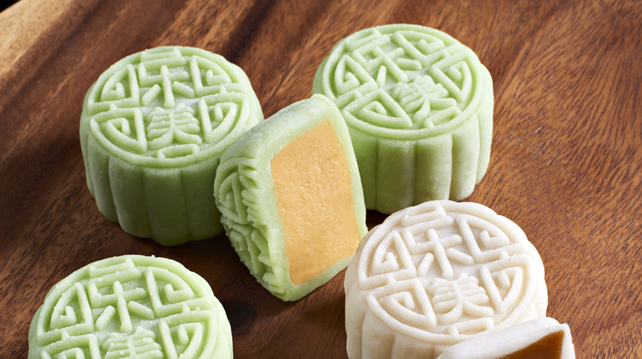 Lei Mei, Le Méridien Putrajaya
Lei Mei has eight varieties of mooncakes this year with a new addition, the Coffee and Raisin mini snow skin mooncake. Their other flavours include classics like White Lotus Paste with Single Egg Yolk and Melon Seed, Pandan Lotus Paste with Hazelnut and White Lotus Paste with Walnuts and Black Sesame. Durian lovers can rejoice as Lei Mei is offering Premium Durian mini snow skin mooncakes.
The mooncakes are priced at RM20 onwards and available at Lei Mei and the lobby of Le Méridien Putrajaya. Email dining.lmputrajaya@lemeridien.com or call +603 8689 6888 to place your orders.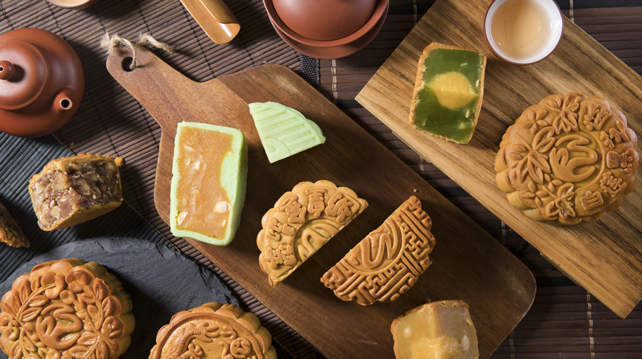 Genting Palace, Genting Grand Hotel
Resorts World Genting has always had a stellar selection of mooncakes every year. This year, they may have outdone themselves with new flavours Pandan Jade with Buttermilk Custard, Durian Paste with Durian Jingsa and Snow Skin Durian Paste.
The mooncakes are priced at RM16 nett per piece and any purchase of four pieces will be given a mooncake box. The mooncakes are available at Genting Palace, Good Friends Restaurant (Level 2, Maxims Hotel) and First World Hotel lobby from now until 24th September 2018.
Visit www.rwgenting.com or call +603 6101 1118 to place your orders.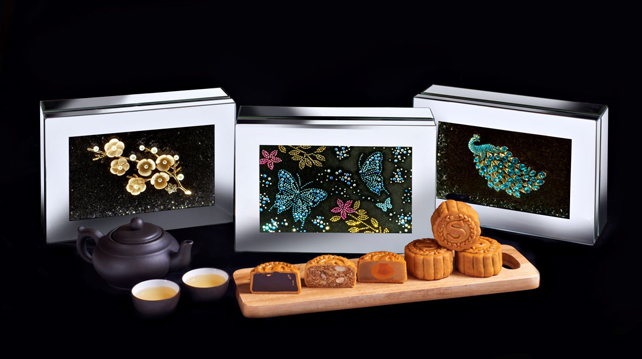 Yue, Sheraton Petaling Jaya
This season, Sheraton PJ released not one but three intricately designed jewellery boxes for the mooncakes. Guests have the option of choosing between Beautiful Peacock, Glittering Butterflies or Delicate Plum Blossom. As for the mooncakes, they come in flavours like Pure Lotus Paste, White Lotus Paste with Single Yolk, Pandan Paste with Single Yolk, Red Bean Paste, Mixed Nuts and Baked Durian with Single Yolk.
The mooncakes are priced at RM26 nett per piece and RM158 for a box of six flavours. Available from now until 24th September 2018 at Sheraton PJ. Call +603 7622 8888 or email dining.spj@sheraton.com to place your orders.
Häagen-Dazs
The popular ice cream brand has released a range of ice cream mooncakes featuring contemporary designs of the moon. Consumers have five different sets to choose from: the Lune et Etoiles, the Twinkle Night Mix, the Mochi Collection, the Line Friends Collection and the Crispy Collection, all of which can be paired with the special X Tea Forte hamper. Flavours of the mooncakes include strawberry cheesecake, cookies & cream, caramel biscuit & cream, chocolate, Belgian chocolate mango, and vanilla.
The Häagen-Dazs ice cream mooncakes are available at all Häagen-Dazs outlets, Tangs.com and selected mooncake booths. The X Tea Forte hamper is available exclusively at Tangs.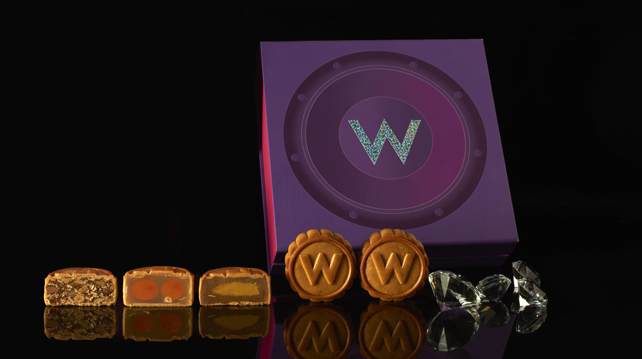 YEN, W Hotel
Handmade by Master Chef Tan Kim Weng and his team, W Hotel's mooncakes lean towards the more traditional flavours as well as seasonal ones like Musang King Durian, Red Bean Paste with aged Mandarin Skin to Special XO Sauce mooncakes. These offerings also come in a very modern packaging in the form of a vinyl disc case.
The mooncakes are available from now until 30th September. They're priced at RM37 nett per piece and RM148 nett per box. Call +603 2786 8888 to place your orders.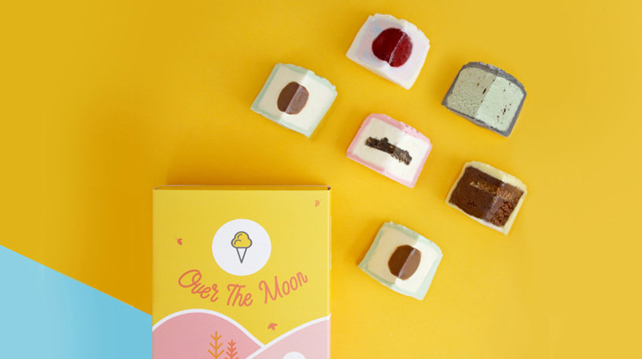 Inside Scoop
Beloved ice cream brand Inside Scoop has released five flavours of mooncakes for this season. The mooncakes are based on best-selling flavours such as D42 Durian, Dark Chocolate Brownies, Unicorn, Vanilla Bean and Mint Chocolate Chip. Inside each of these mooncakes is a tasty surprise! Find out what it is when you order at any Inside Scoop outlet or online, while stocks last. The mooncakes are available now in boxes of four at RM100 and two at RM60.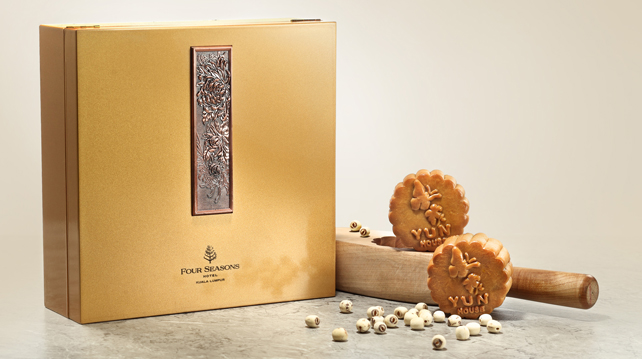 Yun House, Four Seasons Kuala Lumpur
The newly opened hotel has a delectable selection of flavours such as Lotus Seed Paste with Double Yolk, White Lotus Seed Paste, Pandan Lotus Seed Paste with Single Yolk, Black Sesame and Lotus Seed Paste, Assorted Nuts and Sun-Dried Fruits and the extra special one Lotus Seed Paste with Eight Egg Yolks! That last one was specially crafted by Chef Jimmy and its 6.5" inches in diameter.
It's RM42 nett per mooncake and you could select any four flavours to fill a box at RM168 nett. The Lotus Seed Paste with Eight Egg Yolks mooncake is priced at RM208 per piece. Email yunhouse.kualalumpur@fourseasons.com or call +603 2382 8640 to place your orders.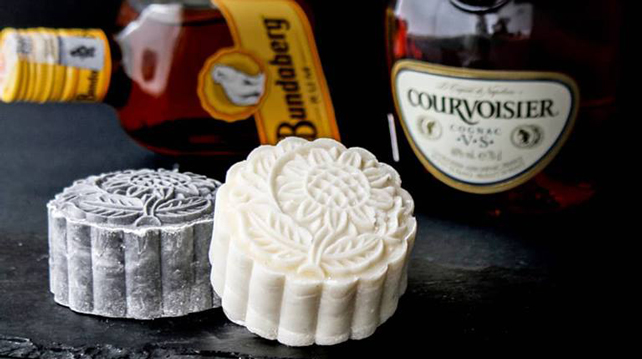 The Ice Cream Bar
The ice cream parlour known for its alcoholic soft serves may not have a wide variety of ice cream mooncakes but they have two damn good ones: Smoked Cognac and Rum & Raisin. The former has white chocolate yolk just to give you that traditional kick.
The mooncakes are priced at RM70 for a box of two. Get them in-store at their flagship in Desa Sri Hartamas or call +603 2856 7435 beforehand to place your orders while stocks last!