Childhood Charleston FizzChildhood Charleston Fizzal finalists who gathered here in KL on 30th October 2017, Joshua Ivanovic of KL's JungleBird came in first and will go on to the global finals in Trinidad and Tobago.
The runners up were Thomas Egerton from Potato Head, Hong Kong in third place, and Akhilesh Sheoran from Perch, India in second place. The other contestants included Bastien Ciocca from Hope & Sesame, China; Amos Kew Wang Yong from Bee Bee's, Singapore; and Terri Kim Yong Joo from Alice Cheongdam, South Korea.
Playing host to the event was Marini's on 57, the workplace of Malaysia's 2012 Angostura champion Rizal Junior Joe Utto who is currently Group Operation Manager & Head of Mixology.
Each bartender was given 10 minutes to set up, and 10 minutes to mix their two rum and amaro cocktails before three judges – Theo Watt, co-founder of Drink Magazine and Head Judge for the regional final; Mike Tomasic, Angostura Global Cocktail Champion 2014 and subsequent Global Brand Ambassador 2014-2016; and Ben Ng of Mish Mash, Penang – and were marked on presentation, brand knowledge, and presence behind the bar.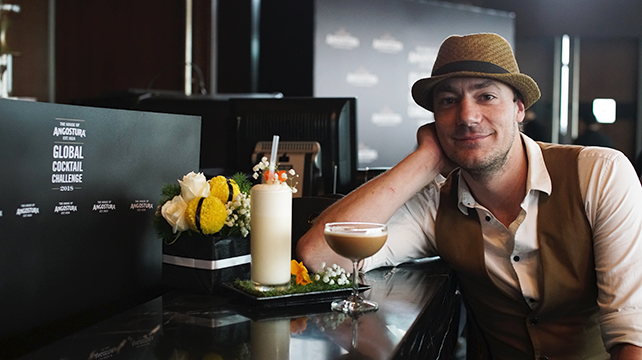 Joshua Ivanovic, partner of JungleBird KL with his two winning creations.
Creating his winning cocktails from the country finals in August, the Childhood Charleston Fizz (made with Angostura Reserva, double cream, fresh lime and lemon juice, egg white, and Angostura Orange Bitters) and La Reunion Flip (made with Angostura Amaro, Angostura Orange Bitters, Pedro Ximenez Sherry, Angostura 1824, all spice syrup, and egg yolk), Ivanovic wowed the judges with his skills and will make the trip to Trinidad and Tobago in February 2018 for the Angostura Global Cocktail Challenge – just in time for the country's carnival season.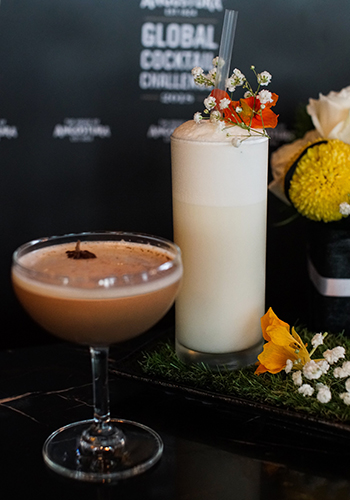 From left: La Reunion Flip and Childhood Charleston Fizz
Ivanovic will go up against bartenders from around the world for the title of Angostura Global Cocktail Champion 2018, as well as a two year contract as Angostura's Global Brand Ambassador, and a cash prize of US$10,000.