I found myself shouting out my order at the bar and then squeezing my way back to my seat at the front of the marquee, where everyone was dancing along with Bohemian Rhapsody.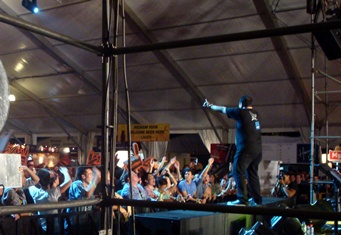 "Bohemian Rhapsody"

It was the second day at Beerfest Asia, at the Singapore Marina Promenade – which was packed with people, and all I could smell was sweat and beer!

The beer booths were allocated in two marquees, Rock and Blue. Each one had its own stage, cashiers and VIP seating gallery. The cashiers sold Beerfest chips, which you needed to get your beers. Prices ranged between $5 to $10 each, and food was from $10 to $12 – so we gathered that $50 would be good to start with.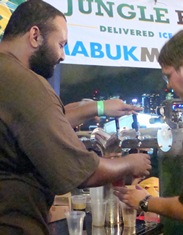 Jungle Beer

Our first pint was Jungle Beer Pale Ale at the Blue Marquee. The rich, strong malty presence lined our empty stomachs nicely before we proceeded to a Lagunitas Czech Pils, which was crisp and refreshing. What a good start!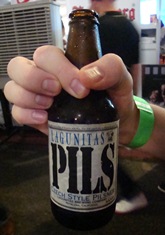 Lagunitas
The crowd at the Carlsberg booth was a bit too much for us to try to look through all the brands it was carrying, so we decided to grab some food, which was near the entrance. Service was very quick; there were about 15 local staff working systematically in the kitchen. Harry's was the sole food provider at the event this time, offering mostly pub grub, kebabs and biryani. We ordered fish and chips, to be on the safe side.


Harris

We brought the food over to the Pilsner Urquell booth and bought a couple of pints. This Czech beer was delicious; the first gulp was malty and the second, quite floral. It went well with the fish and chips, which was surprisingly good, with not-too-thick batter and fresh fish. We were impressed, since we didn't expect too much from outdoor catering for over 30,000 people.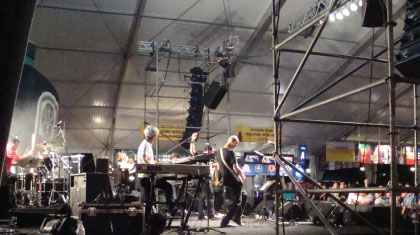 "Zombie"

The comedy show by Fukkah Fuzz was at 9pm, at the air-conditioned area where the Asia Beer Awards were presented earlier. We skipped that though, as the tent was rather full and we heard Zombie playing on the stage at the Rock Marquee.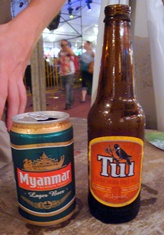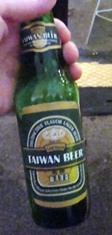 Myanmar, Tui & Taiwan Beer

On the way, we stopped by Bright Blossom & The Beer Bach booth, being really interested in trying this beer from Myanmar (called Myanmar!) since we had already tried Bintang from Indonesia and Chang Beer from Thailand. Bleh, it was like carbonated water – flat. We gave the booth from the Singaporean distributor another chance and bought the Tui New Zealand that they also bring in – by which time we had to buy another $30 in tokens from the cashier. The Tui was bitter, and otherwise forgettable.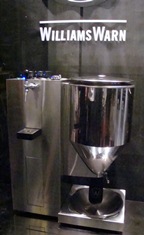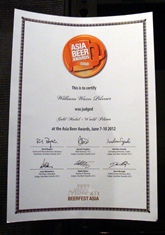 Williams Warn

So we hopped over to the other side of the stage, where Taiwanese beer from Kaimay was going for only $4. It actually tasted better than the beer from Myanmar, being maltier and more refreshing. But when we could quite get a kick, we left for the Gold Medal winner (for their pilsner) booth – Williams Warn. The mini brewing machine (comparatively smaller than the norm) was the centre of attention at the booth. The English Pale Ale was poured – after tasting it I thought, the machine may be a good idea but I would like to make some beer with a few friends that all of us like. At the end of the day, everyone's palate is different. We moved on.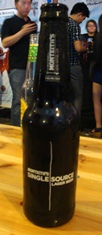 Monteith

Since the night had involved a lot of walking around and sweaty skin-on-skin contact, we decided to sit down for a bit. Right in front of Brothers Cider booth. We had the Original Pear and it was great to wash down some of the bitter beers we had had previously. We also had a Monteith's Single Source Lager that came in what looked like an All Blacks fan bottle; it was slightly bitter at first and then a bit spicy and citrusy. We liked it.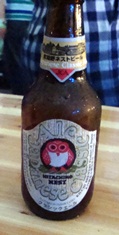 Hitachino Nest
We thought of getting a last drink before calling it a night, and remembered passing by a booth with Japanese beer. Eastern Craft Trading was where we headed, leaving one person guarding the seats. We were recommended the Hitachino Nest Japanese Classic Ale. The packaging was so cute it made us want to keep the bottle! The beer was creamy, sweet and tangy, with a fragrant, woody finish. This beer is matured in cedar casks – I wonder if it would taste good with sashimi.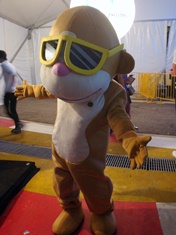 Mr. Mabuk Monkey
Before we left, we bumped into Mr. Mabuk Monkey. Well, he wasn't drunk, but we certainly were! Taking a taxi home was definitely a good idea. It was midnight and started to pour … what a night.

Overall, Beerfest Asia was well organised, clean and a lot of fun. The festival was orderly and there was no misbehaving. We hope to see one in Malaysia but can we do it on as big a scale and market it well? There have been some beer festivals in Malaysia, but it would be good to see brands working together for the benefit of consumers. Plus, more brand choices is always more fun – after all, who only drinks one brand of beer?