In September 2020, Benriach launched its latest rebranded campaign by releasing their revamped range of whiskies with refreshed labelling themed "A World of Flavour".
For drinkers who love the whisky's complexity derived from the blend of diverse casks, Master Blender Dr Rachel Barrie's approach in the new line of Benriach's whiskies will be a feast on the palate.
Brief history
Benriach Distillery, located in the north of Speyside was founded in 1898 by serial distillery creator John Duff, who also started Speyside Distillery (1876) and Longmorn Distillery (1894). The distillery went through a few ownership changes until 2016 when it was acquired by Brown-Forman Corporation.
Benriach's three styles of whisky: classic unpeated, Highland peated and triple distilled were used as blends by other distilleries until 1994 when the distillery released their first single malt, a 10-year-old Pure Highland Malt. Thereafter, they focused on developing Benriach's identity and since 2009, stopped making malt for blends in order to stand out as a single malt brand.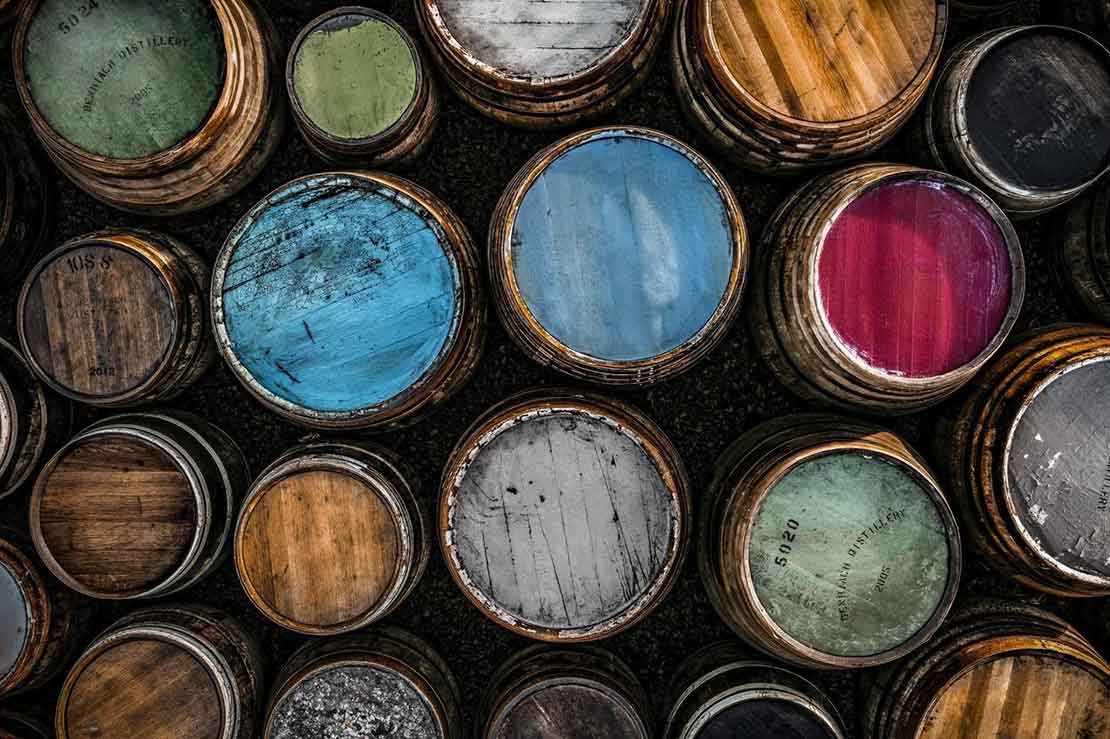 Benriach's colourful barrels
Incorporating environment into brand colours
In the new range, their long-standing three styles together with an eclectic selection of casks from around the world are explored to create rich and multi-layered Speyside whiskies dubbed the "chameleon malt".
Different casks are painted with a colour to identify their characters: virgin and bourbon (America), sherry (Spain), rum (Brazil), port and Madeira (Portugal), red wine (France) and Marsala (Italy). The new label design incorporates the unique sight of these casks with the distillery's environment, for example: the white and blue refers to the wine casks, the blue is the hills and mountains, and purple symbolises bloomed heather.
The new core range
Benriach's core range all share one common trait: they are classic unpeated or Highland peated whisky from three casks matured for at least ten or twelve years.
The Original Ten (43% ABV)
Three cask matured for at least ten years in bourbon barrels, sherry casks and virgin oak casks.
Tasting notes: Rich orchard fruits, honey and toasted oak on the nose; on the palate is ripe pear, nectarine and malt sweetness, with a finishing note of almond and spiced vanilla
The Smoky Ten (46% ABV)
Crafted from a combination of unpeated and peated spirit and three cask matured for at least ten years in a combination of bourbon barrels, Jamaican rum casks and toasted virgin oak.
Tasting notes: Ripe orchard fruit syrup, smoked honey glaze and oak spice on the nose; on the palate is smoked applewood, honey maple and spiced pear finishing with lingering fruit and smoked oak.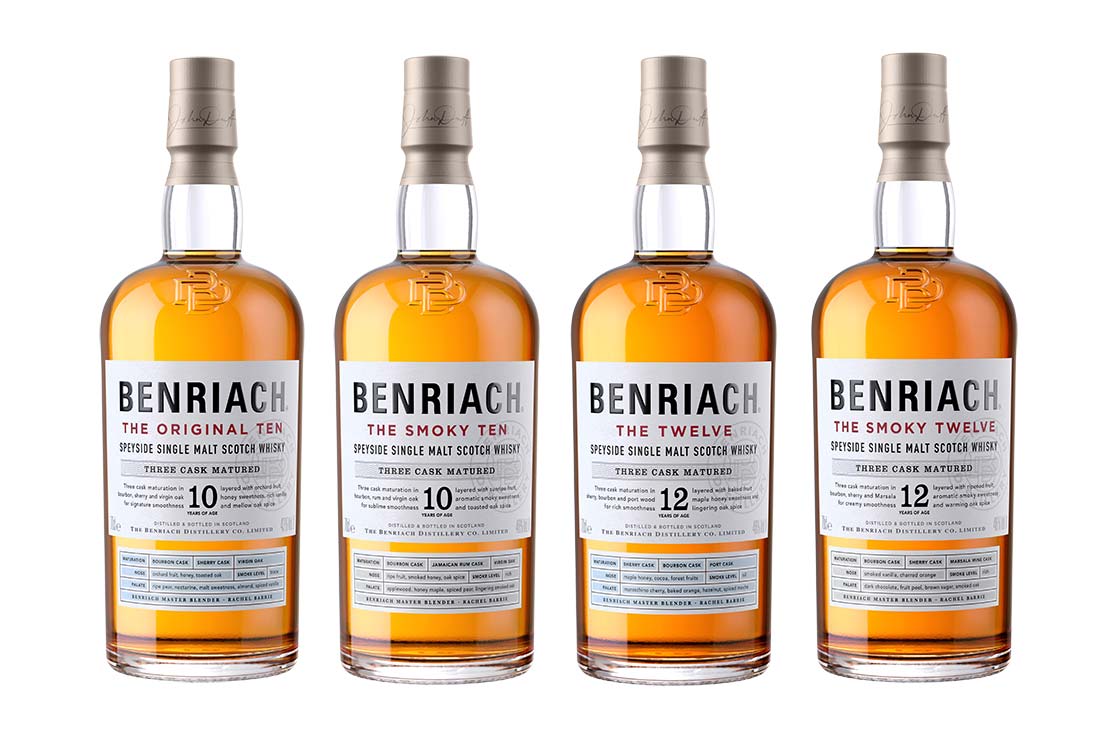 Benriach's new core range: The Original Ten, The Smoky Ten, The Twelve and The Smoky Twelve
The Twelve (46% ABV)
The unpeated spirit is three cask matured for at least twelve years in sherry casks, bourbon barrels and port casks.
Tasting notes: Rich maple honey, cocoa and baked forest fruit on the nose; on the palate is maraschino cherry, baked orange and hazelnut, with a lingering sultana and spiced mocha finish.
Smoky Twelve (46% ABV)
The Smoky Twelve has been crafted from a combination of unpeated and peated spirit and three cask matured for at least twelve years in bourbon barrels, sherry casks and Marsala wine casks.
Tasting notes: smoked vanilla, charred orange and toasted almond on the nose; on the palate is dark chocolate, fruit peel, brown sugar and smoked oak, lingering into a cocoa and orange smoked finish.
Other contributors
Benriach is one of two Speyside distilleries that still use the traditional floor malting processes. Their malt is then mashed using underground hard water, an element ideal for yeast propagation and flavour development. Their signature 4 mashing cycle allows extraction of sugar from the grist into an extra sweet mash that can turn into a high alcohol and flavourful spirit.
Before being distilled, the mash goes through a long fermentation of 96 hours as compared to the shorter 72 hours a distillery generally uses. This creates a complex and multi-layered whisky and Benriach's crisp and fruity core.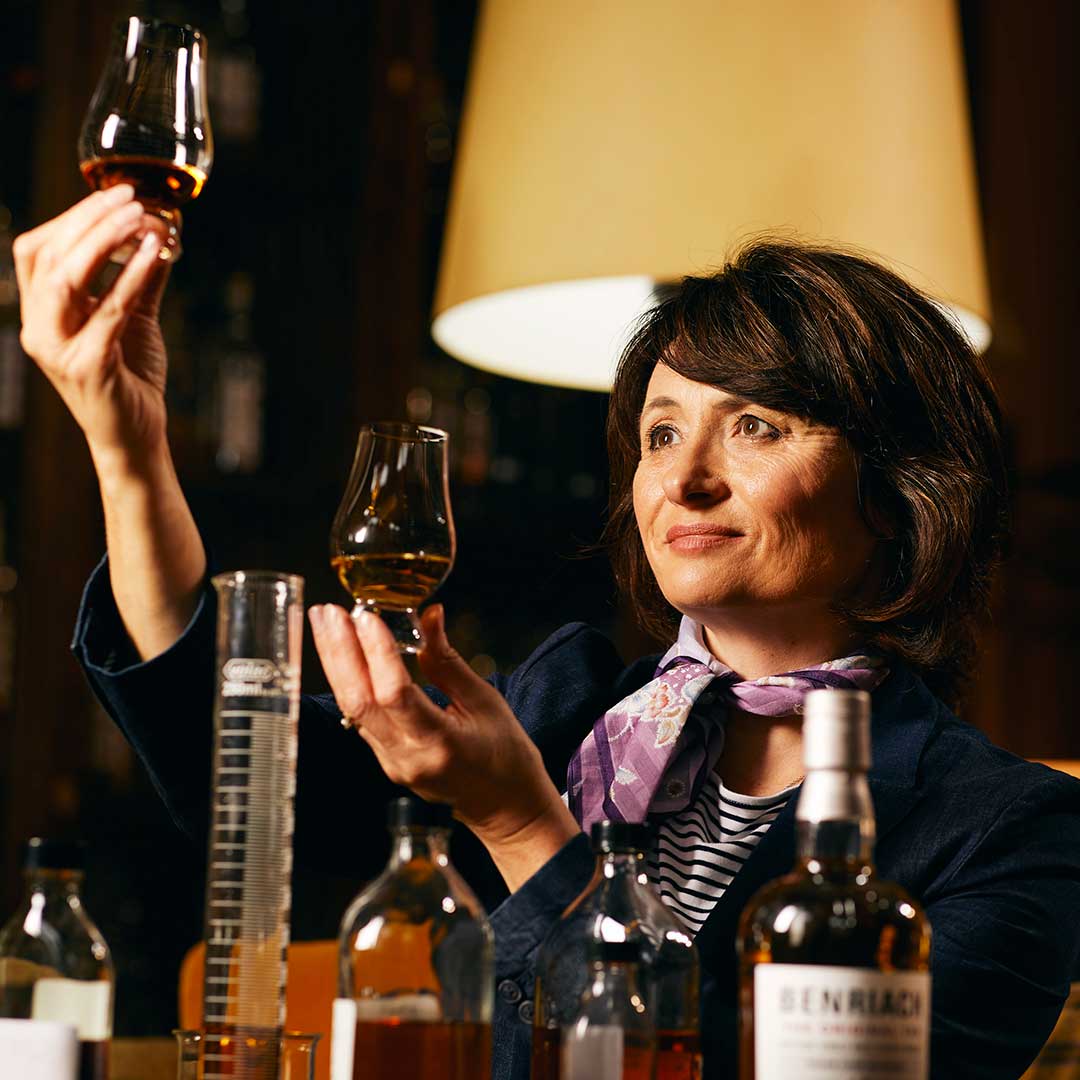 Dr. Rachel Barrie, Master Blender of Benriach
The last and most important element to Benriach's new range is Master Blender Dr Rachel Barrie's exceptional taste and blending skill. Also known as the "First Lady of Whisky", she has tasted over 150,000 casks of Single Malt Scotch Whisky in her 27 years of experience in the industry, including her time in Ardbeg and Bowmore.
In 2019, Dr Barrie was the first female Scotch whisky Master Blender to receive an Honorary Doctorate from University of Edinburgh and be inducted into Whisky Magazine's illustrious 'Hall of Fame'. She was also inducted as a 'Keeper of the Quaich' on 7 October 2020.
The Malaysia media launch was hosted by Brown-Forman APAC brand ambassador Stuart Fear, who currently lives in Taipei.
Other than the core range, Benriach produces the ultra-premium range (21YO, 25YO & 30YO), special editions for travel retail and cask editions which all are yet to be made available in Malaysia. Drinks Alliance is Benriach's exclusive distributor in Malaysia.
Use promo code BROWBR7 to get RM25 off on Brown-Forman's official store at Shopee. 30 redemptions or valid until 15th September 2021 whichever ends first.
- T -