Benromach Distillery, with "ben" meaning "the peak" of Romach Hill, is considered a new distillery for the single malt whisky industry, but not a young one. It has only recently introduced its whiskies to the market since it closed down in the 1980s. Although only back in production in 1997 after restoration work was completed, the brand was actually started more than 100 years ago in 1898.
Benromach Distillery was founded by Duncan MacCallum (Glen Nevis Distillery in Campbelltown which no longer exists) and F.W. Brickmann (a spirit broker from Leith). The first production was in 1900 but closed down within a year because they ran out of money. MacCallum tried to run the distillery for a few more years between 1907 and 1911 until it was acquired by the Benromach Distillery Ltd, unfortunately with not much success again. Following many changes of ownership and rebuilding, the distiller was finally closed down and equipment dismantled in 1983.
A decade later, Gordon & MacPhail bought over Benromach, making it their first and very own distillery. Gordon & MacPhail has been an independant bottling company since 1895 and has bottled over 350 different expressions from around 70 distilleries. Only 6 years later was the distillery fully restored with 2 new stills installed. In 1998, it was officially opened by Prince Charles of Wales. The first release was Benromach Traditional in 2004.
Benromach is the smallest operating distillery in Speyside, located on the original site of Forres. It is one of the distilleries that was built during the "whisky boom" in the late 1900s that still survives today. The distillery unusually uses both distiller's yeast and brewer's yeast, believing that the brewer's yeast gives more character and subtle fruitiness to the freshly distilled spirit. The proof is in their 10 year old, an award winning whisky with a slight smokey note that is aged in first filled barrels, perfect for anyone starting out on peaty whisky.
The following five expressions of Benromach are now available at Single & Available:
• Benromach Hermitage 45% ABV is matured in wine casks from the northern Rhone region of France. Flavours of red apples, zesty lemon and lime with a touch of vanilla and a hint of almond that complements the underlying peat smoke edge.
• Benromach 10 43% ABV is a great entry level peated whisky that is gentle with rich sherry, fruit and nut chocolate, delicate spice, green apples, malty biscuit and light peat smoke.
• Benromach 10 (100 proof*) 57% ABV, a higher proof version of the 10YO that tastes of bonfire embers, ripe banana and blackcurrent flavours.
• Benromach 15 43% ABV is matured in both sherry and bourbon casks that give sherry aromas, vanilla pod, spicy ginger notes, cocoa and cinnamon, ending with sweet honey and gentle peat.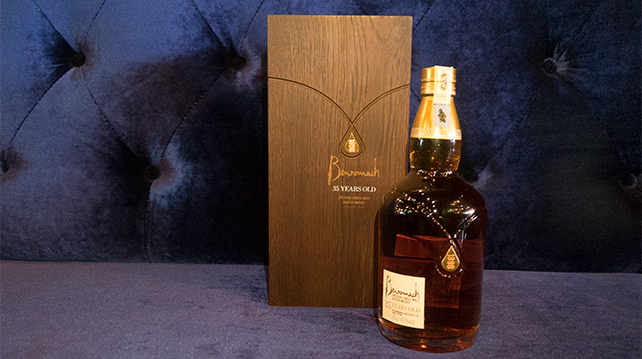 • Benromach 35 43% ABV is richer in sherry compared to the 15YO, with orange marmalade and grapefruit aromas, stronger flavours of ripe banana compared to the 10YO with a smooth ending of dried tobacco, raisin and charred oak finish.
*"Proof" is an old measurement of alcohol content in the spirit. This tradition actually started with rum where sailors would test their ration by adding gunpowder into the spirit, if it ignited, its strength was "proved".